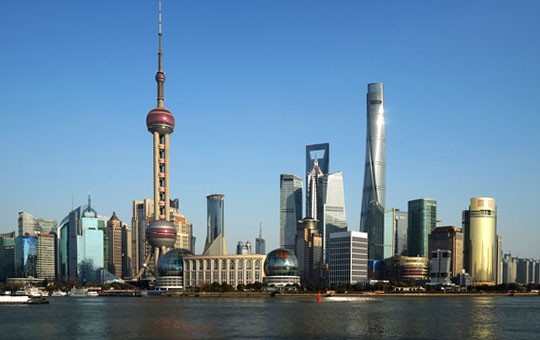 Located on the eastern side of the Huangpu River, Lujiazui within the Pudong New Area is Shanghai's glitzy financial district and commercial center, and it's home to the dazzling, modern skyscrapers that give the city its distinct skyline. Since its creation in the 1990s, the Pudong New Area has quickly exploded into one of the world's busiest and most prosperous neighborhoods. While Lujiazui's many iconic towers make for some great photos, there aren't a ton of tourist-friendly activities in this neighborhood, since it's largely a business district. That said, even if you're just passing through, it is truly a sight to behold.
Highlights and Travel Tips
Oriental Pearl TV Tower
Completed in 1994, the Oriental Pearl TV Tower was the tallest structure in China until 2007 and is a stunning example of modern architecture. Perhaps the most recognizable building in Shanghai and a long-standing symbol of China internationally, it consists of eleven spheres of different sizes connected by three towering columns. The tower's 15 viewing platforms at various heights offer great views of the Bund and the surrounding Pudong area. Although it is now Shanghai's third-tallest structure, it offers unparalleled views of the Bund compared with some of the city's taller buildings, as you can still see a lot of detail on the ground. The Oriental Pearl Tower is famous for its glass-bottomed sightseeing floor, which can be a thrilling challenge for those afraid of heights. The tower also houses an interesting museum detailing Shanghai's history, as well as Asia's highest revolving restaurant.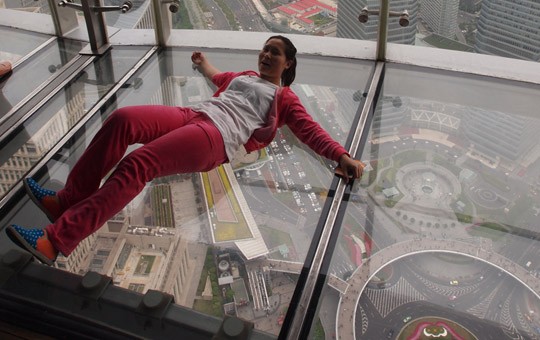 Average time for this activity: 1.5 hrs
Opening hours: 8:30am-9:30pm
Entrance fee:
220 RMB/person for all-inclusive ticket (all three spheres and museum); 160 RMB/person for the first two spheres and the museum; 120 RMB/person for the second sphere only and the museum; 35 RMB/person for museum only (to avoid long lines, we recommend purchasing tickets in advance, which we can arrange for you)
Shanghai Tower
Standing at 632 meters, Shanghai Tower is the world's second tallest building and the tallest in China (as of 2018). It also boasts the world's highest observation deck and the world's fastest elevators, which travel at a top speed of 74 km/hr (46 mph). The express elevator ride up to the observation deck on the 119th floor takes less than a minute in total. While the tower itself is mostly taken up by various businesses, it does have a few floors dedicated to retail and other amenities. If the Oriental Pearl Tower's impressive views do not satisfy your appetite for heights, then a visit to Shanghai Tower's even taller observation deck may be in order.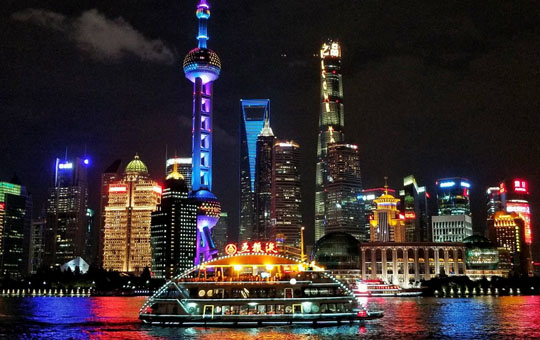 Average time for this activity: 1 hr
Opening hours: 8:30am-9:30pm
Entrance fee: 180 RMB
Shanghai World Financial Center
The Shanghai World Financial Center, another supertall skyscraper located in the Pudong district of Shanghai, stands at 492 meters and is currently the city's second tallest building. As its name implies, the Shanghai World Financial Center is the center of the city's financial activities and is mostly comprised of office space, although it also boasts luxury hotels and a shopping mall on its bottom floors. The observation deck offers views from 474 m (1,555 ft) above ground on floors 94-100. Height enthusiasts should head up to floor 100, where you can traverse the SkyWalk, a 55-meter corridor composed entirely of glass. You can also travel up to the Park Hyatt hotel on floors 79-93, which offers similarly spectacular views, and enjoy a coffee or tea while admiring the cityscape.
Average time for this activity: 1 hr
Opening hours: 9:00am-9:30pm
Entrance fee: 120 RMB for main observation deck only (94th floor); 180 RMB for all-inclusive ticket (including SkyWalk)
Jinmao Tower
Until 2007, the Jinmao tower was the tallest building in Shanghai. While it no longer has that claim to fame, and now ranks fourth on the list of Shanghai's tallest structures, it is still a sight to behold and provides panoramic views of the surrounding city. The Jinmao tower is home to the Grand Hyatt hotel, and the Cloud 9 bar occupies the 87th floor of the hotel. Rather than wait in long lines for a crowded viewing deck, we like to take guests for a drink in the Cloud 9 cocktail lounge, where you can relax in a five-star setting and sip your drink at your own leisure, all while taking in stunning views of the city. If you do wish to venture up to the 88th-floor viewing deck, you can walk among the clouds using the 60-meter glass skywalk.
Average time for this activity: 1.5 hrs
Opening hours: 8:30am-9:30pm
Entrance fee: 120 RMB
Century Boulevard
Century Boulevard is an iconic, 5-km avenue stretching from Oriental Pearl TV Tower to Century Park, the largest park in Shanghai. The boulevard features magnificent landscaping, including several botanic gardens, as well as two beautiful sculpture gardens. We highly recommend a stroll down this famous avenue between visits to Lujiazui's skyscrapers.
Average time for this activity: <1 hr

Shanghai Ocean Aquarium
The Pudong New Area is also home to one of the world's largest ocean aquariums, which covers an area of over 220,00 square feet right next to Oriental Pearl TV Tower. The Shanghai Ocean Aquarium features a stunning diversity of exhibitions, including a shark cove, coral reef, and the world's longest underwater viewing tunnel, which spans over 150 meters. The aquarium also includes a fun and informative section dedicated to China's aquatic life. Overall, this impressive aquarium makes for a great family activity, especially on rainy days.
Average time for this activity: 2 hrs
Opening hours: 9:00am-6:00pm
Entrance fee: 160 RMB
Popular Tours