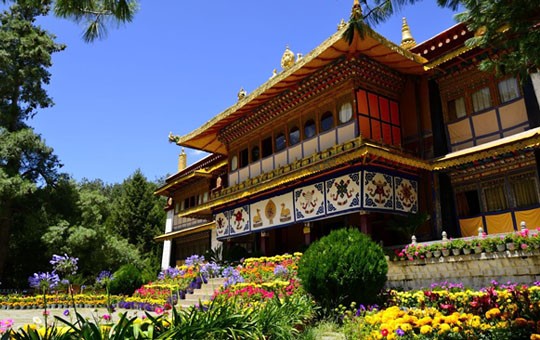 Consisting of palaces and nice gardens, Norbulingka was the traditional summer residence of the Dalai Lama from the 18th century until the 14th Dalai Lama's exile in 1959.
Highlights and Travel Tips
Norbulingka, which means "treasure garden" in Tibetan language, is located on the west side of Lhasa, a short distance southwest of Potala Palace. The gardens are full of brightly colored flowers and dense trees, dotted with Tibetan-style palaces. It is the largest, highest, and most scenic Tibetan garden.
The garden offers visitors a relaxing and peaceful place to stroll after climbing the steps at the various monasteries and palaces around Lhasa. The palaces within the park offer some insight into the daily life of the Dalai lama. The park becomes particularly popular during the celebration of the annual Sho Dun (literally "yogurt") festival, when the locals gather there to sing, dance, and play musical instruments.
The park is large but walkable, as it is mostly flat. It is recommended to take a guided tour so you know where to go and what to look at, and so you can learn the history behind the various sites.
Opening Hours and Ticket Prices
Opening hours: 9:30am - 5:30pm
Entrance fee: 80 RMB
Average time for this activity: 2.5 hrs

Popular Tibet Tours