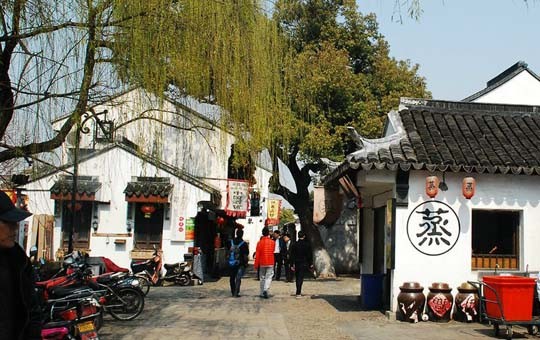 Pingjiang Road has been a mainstay of Suzhou maps as far back as the Song Dynasty (960-1279). Extending for almost 2 kilometers through the heart of Suzhou's Old Town, this narrow flagstone street and the lanes extending from it are lined with well-preserved traditional architecture, shops, teahouses, guesthouses, and local homes that lend the street an authentic, ancient atmosphere.
Highlights and Travel Tips
Pingjiang Road is a popular place to shop for quality local handicrafts, traditional clothes, and other souvenirs. There are numerous teahouses where you can sit and sip a tea while enjoying a traditional Pingtan performance of ballads and storytelling.
You can also take a cruise in a traditional rowboat down the narrow canal that runs parallel to the street, during which you will glide beneath arched stone bridges and past white-washed homes featured in many a Chinese painting.
There are restaurants serving delicious Suzhou dishes and snacks along the road, and the area is particularly atmospheric at night, when lanterns along the street and the nearby canal are lit. Pingjiang Old Street is a wonderful mix of the ancient and the modern, and a great place to stroll and get a snack or meal in between visits to Suzhou's beautiful classical gardens.
Opening Hours and Ticket Prices
Opening hours: All day
Entrance fee: free
Recommended duration of this activity: 1-2 hrs
How to Get There
Pingjiang Road is located in the center of Suzhou Old Town and is within walking distance of many of the city's most famous landmarks. At the street's northern end, you will find two of Suzhou's best-known gardens, the Humble Administrator's Garden and Lion Grove Garden, as well as Suzhou Museum. Pingjiang Old Street can easily be reached by car, bus, or subway from most locations within central Suzhou.
Popular Suzhou Tours