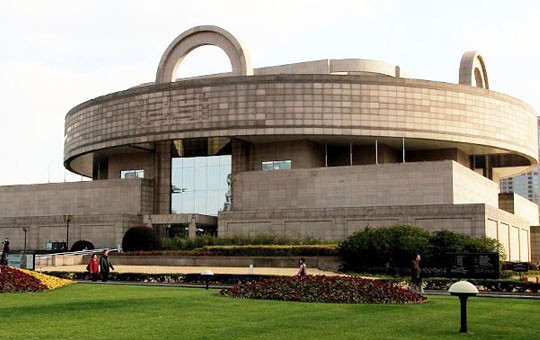 The Shanghai Museum
Widely considered one of China's best museums, the Shanghai Museum houses a stunning array of ancient Chinese art and artifacts, including ceramics, calligraphy, paintings, furniture, jade, bronze, and more. The museum is made up of eleven themed sections spread across four floors, all displayed in a modern, well laid out setting. The museum itself is located in the heart of People's Square and is designed to look like a traditional Chinese cooking pot. The museum's displays include English labels and audio guides are available in various languages.
Average time for this activity: 2 hrs
Opening hours: 9:00am until 5:00pm with last admission at 4:00pm (closed on Monday)
Entrance fee: free, but special exhibitions may charge a fee
Shanghai Urban Planning Exhibition Hall
The Shanghai Urban Planning Exhibition Center is located on People's Square adjacent to the municipal government building. The Exhibition Center provides an informative and compelling narrative surrounding Shanghai's growth from a small fishing village to the thriving megacity it is today. The center's exhibitions, spread across five stories and two basement levels, cover the history of Shanghai's rise as well as upcoming developments.
Most famously, the exhibition center's third floor features a huge scale model of the city of Shanghai, showing all existing and approved buildings. Visitors can view the model from the side or from above via a wraparound gallery. The model is intended to represent the entire city, including all planned developments. The view is partially obstructed by a few support pillars, but this does not substantially detract from the model's impressive detail and scope.
Alongside the model is a small theatre room featuring a 3D virtual reality video, which makes viewers feel as though they are soaring through the sky of future Shanghai. The center also provides a plethora of information about historical architecture in Shanghai, such as its colonial past, its iconic shikumen housing, and its ever-rising skyscrapers. Just outside the center exit, you will be transported to 1930s Shanghai in a model recreation of Old Shanghai Street during its heyday, complete with vintage cars, photographs, and other old-timey features. The center also houses a small café on its top floor, which offers nice views over People's Square.
Average time for this activity: 1 hr
Opening hours: 9:00am-5:00pm with last admission at 4:00pm (closed on Monday)
Entrance fee: 30 RMB (audio guides available for 20 RMB)
China Art Museum
During the 2010 Shanghai World Expo, China's magnificent pavilion was the largest national display in the history of the World Expo, and since its creation it has attracted millions of visitors. It is also known as "The Oriental Crown," because its design elements resemble those of an ancient Chinese crown. In 2012, the pavilion was converted into a grand art museum that now houses exhibitions from around the world, including France, Mexico, New Zealand, and Japan. The permanent exhibitions are divided into four themes: the Origin of Chinese Modern and Contemporary Art, the Artwork of Noted Painters, Artwork Featuring the History and Culture of Shanghai, and 21st Century Chinese Art. The museum is home to a number of paintings by famous Chinese artists, as well as an impressive collection of modern art.
Average time for this activity: 1-2 hrs
Opening hours: 10:00am until 6:00pm with last admission at 5:00pm (closed on Monday)
Entrance fee: free, but certain exhibitions may charge a fee
Shikumen Open House Museum
Tucked away in the meandering alleyways of Xintiandi, the Shikumen Open House Museum is a perfectly restored two-story Shikumen house, literally translating into "stone-gate house." This terraced-style housing is typical of Shanghai in the 19th and 20th centuries and was often occupied by upper-middle class families. The quaint rooms are authentically decorated with toys, antique furniture, typewriters, and other everyday objects, making this one of the most authentic former residence exhibits in Shanghai and providing unique insight into the city's past.
Average time for this activity: 1 hr
Opening hours: 11:00am until 10:30pm
Entrance fee: 20 RMB
Popular Tours