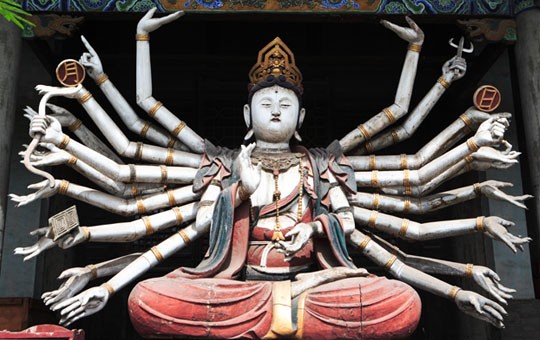 Located about 6 kilometers southwest of Pingyao Ancient City, Shuanglin Temple is a small Buddhist temple inscribed as a UNESCO World Heritage Site together with the Ancient City of Pingyao in 1997.
Highlights and Travel Tips
Founded in the 6th century, Shuanglin Temple is notable for its collection of more than 2,000 decorated clay statues, which were built from the 12th to the 19th century. The temple's existing buildings date back to the Ming and Qing dynasties.
The halls of the temple are filled with beautiful wood and clay sculptures of Buddhist gods. The four Buddha warrior attendants in the God Hall reach a height of three meters each and are revered for their power and grandeur. Engraved sculptures on the walls of the Amitabha Buddha Hall tell the story of Sakyamuni, the founder of Buddhism.
Shuanglin Temple sees far fewer tourists than the sights in Pingyao Ancient City, making it a tranquil and atmospheric place to stroll. The temple is in an unrestored state, with all the original colors on its statues, beams and murals, giving visitors a sense of the temple's history.
Shuanglin Temple is worth a visit for those interested in Buddhism, ancient art, or history. It is best to go with a guide who can explain the significance of the different halls and statues.
Opening Hours and Ticket Prices
Opening hours: 8:30am - 5:30pm
Entrance fee: 35 RMB
Average time for this activity: 1 hour
How to Get There
It is most convenient is to visit Shuanglin Temple while arriving in or departing from Pingyao since the temple is quite close to the bullet train station. Visitors who plan a visit to the Wang Family Compound can also make a pit-stop at Shuanglin Temple.
Popular Pingyao Tours