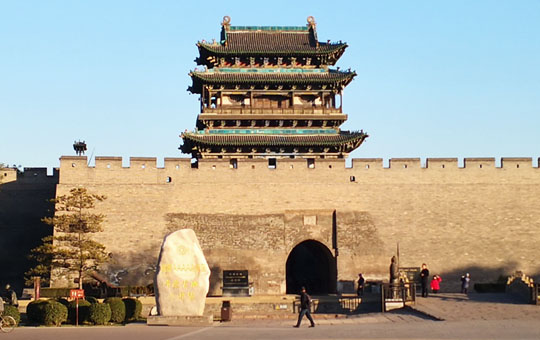 Despite being a small county in Shanxi province, Pingyao has gained fame as home to Pingyao Ancient City, typically considered the best-preserved ancient walled city in China. The Ancient City, with the nearby Shuanglin Temple and Zhenguo Temple outside the walled city, were together inscribed as a UNESCO World Heritage site in 1997.
Things to Do and Travel Advice
Being the financial center of China during the late Qing Dynasty, the 2.6 square kilometer walled city of Pingyao boasts remarkably well-preserved architecture and an intact urban plan. Pingyao Ancient City contains historic sites such as Pingyao City Wall, the Ancient County Government Office, the earliest remaining Confucian Temple in China, and Rishengchang Draft Bank, China's earliest draft bank, as well as many other historic temples and houses. With the core area off-limits to cars and cobbled streets and buildings almost entirely from the Ming and Qing dynasties, there is no better place than Pingyao to experience a classical Ming and Qing city in ancient China.
A few kilometers south and north of Pingyao Ancient City are Shuanglin Temple and Zhenguo Temple, the other two UNESCO sites. Being bigger and notable for its collection of more than 2,000 decorated clay statues, most of them dated to the period of the 12th-19th centuries, Shuanglin temple is a must-see while you are in Pingyao. Both Shuanglin and Zhenguo Temple see few tourists and offer a tranquil and authentic atmosphere.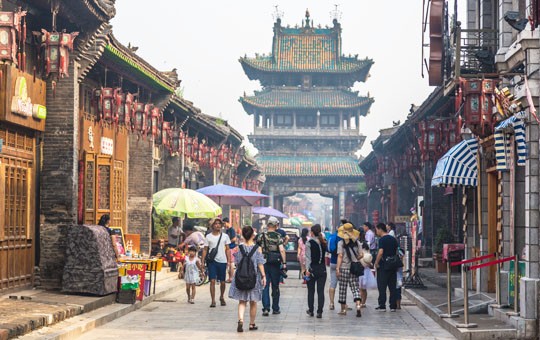 Farther away from the ancient city, there are two enormous and historic compounds, which are both about one hour outside of Pingyao: the Qiao Family Compound and the Wang Family Compound. If you have another half day and you enjoy seeing Chinese folk architecture, you can pick one of them to visit. Usually we recommend the Wang Family Compound, as it is more grand and impressive.
One full day will cover most of the top sights within the walled city as well as Shuanglin Temple outside the city. If you have another half day, you can choose to either explore more of the ancient city at your leisure, or you can visit the Wang or Qiao Family Compound. We suggest visitors stay overnight in Pingyao Ancient City so that you can conveniently enjoy the bustling nightlife and the tranquil atmosphere of the early morning.
One thing to remember is that, although Pingyao is still off the radar of most foreigners, it is very popular among Chinese tourists, so be prepared for crowds. If you want to appreciate the more tranquil side of the town, we suggest you get up early when there are fewer tourists and mostly locals going about their daily activities. (Learn more about how to avoid the crowds when traveling in China.) In addition, we recommend getting a tour guide to explain the places of interest and the history and stories behind the buildings.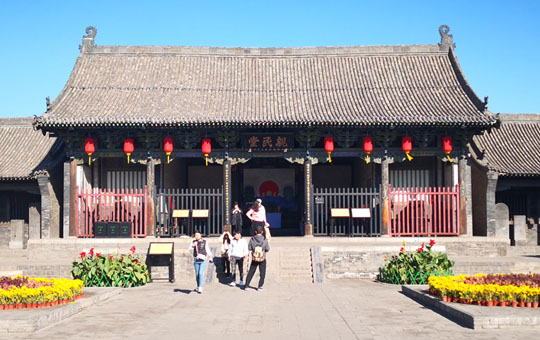 If you are planning a trip to Pingyao, please check out the popular sights and activities here and our suggested itineraries here, or you can simply ask us to customize a China itinerary for you.

Eating in Pingyao
Most buildings along Mingqing pedestrian street, the main street of the city, have been converted into restaurants, shops, bars, and guesthouses, so it is easy to find quality local restaurants along the street. For local fares, you can try Pingyao beef, which is the most famous local specialty and can be found in a wide array of varieties.
Popular Nighttime Activities in Pingyao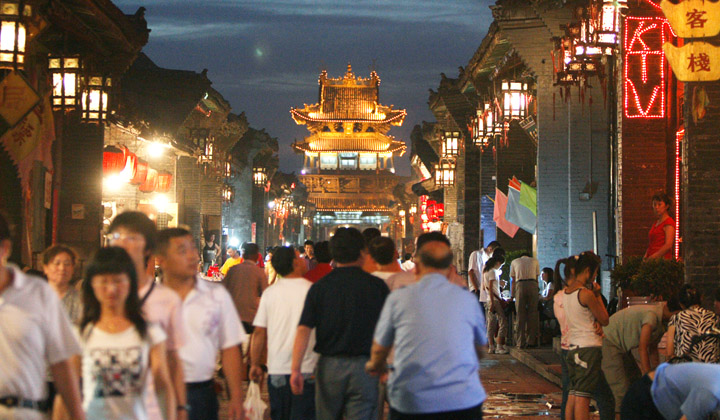 Night is the busiest time in Pingyao Ancient City. Strolling down Mingqing pedestrian street, sampling some local food and doing some souvenir shopping is a popular way for visitors to spend the evening. Do be aware, however, that there will be many other tourists wandering along the street with you.
There is also a performance called "Seeing Pingyao" outside of the west city gate both in the evening and afternoon, which you can attend if you are interested. The performance tells the tale of Pingyao during the Qing dynasty, and the audience can walk around and observe the play during the performance, as opposed to sitting in a chair the whole time. It is better to read the story before going to watch the show to better understand each scene.
Accommodation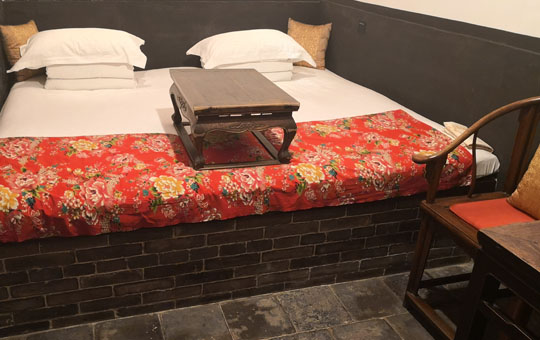 We suggest staying in one of the hotels in Pingyao Ancient City, as this makes it more convenient for you to stroll around the city in the evening and early morning. There are numerous hotels inside the ancient city. Many of them are converted from historic houses. Be aware that some hotels feature traditional Chinese beds and decorations. Although this gives visitors an authentic Chinese experience, some rooms may not be to the taste of those who prefer modern amenities.
Best Time to Visit Pingyao
Being an ancient city boasting mainly history and architecture, Pingyao is ideal for visiting all year. However, considering it is in northern China, spring (April to May) and fall (September to November) are more pleasant in terms of temperature. In addition, Pingyao tends to see more tourists during weekends.
Transportation
Pingyao is in between Beijing and Xi'an. It is about 3-4 hours from Beijing by high-speed train and about 3 hours from Xi'an. Most travelers stop in Pingyao for one or two nights on their way from Beijing to Xi'an.
Pingyao Private Tours