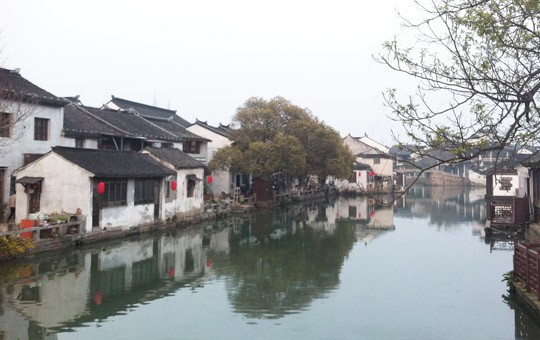 Located on the southern outskirts of Suzhou and famed for its picturesque canals, Tongli Water Town is one of the hidden gems around Shanghai and one of China's most beautiful water towns.
Highlights and Travel Tips
While many of the water towns around Shanghai have been over-commercialized, Tongli Water Town retains its village charm. It is a small and largely pedestrianized town, and while it receives a lot of tourists, its quaint, authentic atmosphere has not been compromised.
Tongli Water Town is home to peaceful classical gardens, bucolic canals littered with traditional rowboats and ancient bridges, and numerous historic buildings. One of its most famous attractions is Tuisi Garden, also known as the Retreat and Reflection Garden, which was recognized as a UNESCO World Heritage Site along with Suzhou's many gardens in 2001. As its name suggests, this elegant garden is a pretty place to stroll and appreciate some traditional architecture, including pavilions, pagodas, and bridges.
Tongli Water Town also boasts stunning examples of historic architecture dating back to the Ming and Qing Dynasties. Most notable among them are Jiayin Hall and Congben Hall, which are both known for their exquisite wood carvings.
Simply strolling along the banks of Tongli Water Town's canals and exploring its winding lanes will give you a sense of the town's history and allow you to appreciate its scenery. You can enjoy a leisurely lunch or sip a cup of tea at a local restaurant along the canals, or cruise down the scenic waterways in a traditional boat. While exploring, you will enjoy views of the town's more than 50 bridges, the most famous of which are Taiping Bridge, Jili Bridge, and Changqing Bridge.
While most visitors simply pass through Tongli Water Town on their way between Shanghai and Suzhou, it is a convenient and picturesque stop along the way.
Please note that you will need to purchase a ticket to enter Tongli Water Town and visit the various sites of interest around the town. A ticket is valid for 2 days and includes entry to a total of 10 scenic spots.
Opening Hours and Ticket Prices
Opening hours: all day (scenic spots are open from 7:00am - 5:30pm)
Entrance fee: 100 RMB
Average time for this activity: 3 hrs
How to Get There
Tongli Water Town is located about 18km outside of Suzhou and 80 km from Shanghai. From Suzhou, visitors can reach Tongli by car or bus, both taking about 30-45 minutes. Buses leave at regular intervals throughout the day from Suzhou Railway Station or Suzhou South Bus Station.
Popular Tours