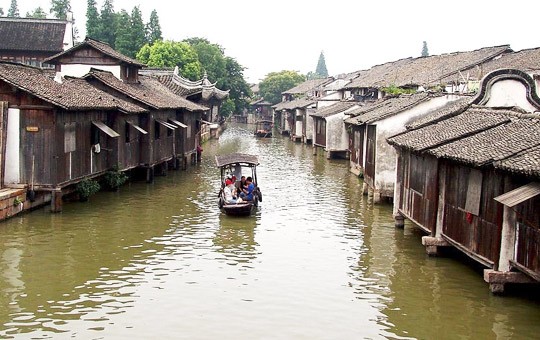 China is famous for its ancient water towns and their characteristic canals, riverside houses, arching bridges, and traditional rowboats. Wuzhen Water Town is commonly considered one of the most scenic and idyllic of China's ancient water towns and is definitely worth a visit if you'll be traveling around Hangzhou or Shanghai.
Highlights and Travel Tips
Visiting Wuzhen Water Town is like taking a step back in time; the town boasts a 1,300-year history and is surprisingly well preserved despite its age. The ancient canal system connecting Beijing and Hangzhou flows through the town and is surrounded by Qing-era buildings and bridges.
The town is split into four main sections, the two most picturesque being Dongzha (East Area) and Xizha (West Area). Dongzha, the more popular area, is a great place to enjoy Wuzhen's hallmark canals and traditional architecture. Here, the canal is lined with various shops, restaurants, and museums. This area is also known for its traditional folk performances, including shadow plays, bamboo pole climbing, and kung fu shows on boats along the canal. Shows occur at various times throughout the day, so there's no need to worry about scheduling.
Xizha is less developed and thus a little less crowded, but still provides charming views of the canal and surrounding buildings. Xizha is particularly well known for its attractive stone bridges that arch gracefully across the canal. Xizha is also home to the Chinese Foot Binding Culture Museum, where visitors can learn more about the history of this ancient practice. This part of the town is particularly beautiful at night, when the homes and buildings along the canal light up.
Conveniently situated right in the middle of the triangle connecting Suzhou, Hangzhou, and Shanghai, Wuzhen Water Town can be easily reached from any of these cities by car, train, or bus in 2 hours or less.
Recommended duration of this activity: 2-3 hours
Entrance fee: 100 RMB (Dongzha); 150 RMB (Xizha); 200 RMB (combined ticket)
Opening hours: 7:00am-6:00pm (Dongzha); 9:00am-10:00pm (Xizha)

Popular Hangzhou Tours: