A Brief Guide to the Most Famous Water Towns in China
Last updated on 2020-05-08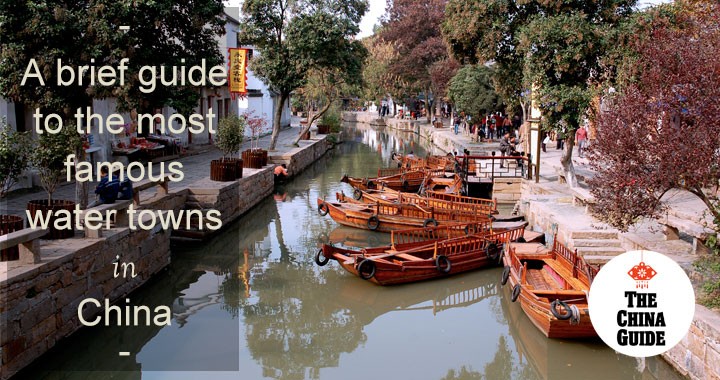 The many water towns dotted around Suzhou and Shanghai are often collectively referred to as the "Venice of the East". These water towns offer a tranquil break from modern China and a glimpse of the time-honored traditions of rural life in the picturesque Jiangnan area as you stroll down historic cobbled lanes, take a boat ride, visit well-preserved historic buildings or enjoy a local lunch by the side of the canal.
Map of Top Ancient Water Towns
Zhouzhuang Ancient Water Town
Founded during the Northern Song Dynasty (960-1127), Zhouzhuang is the most popular, and thus the most crowded, water town in China. The town is surrounded by water and full of well-preserved dwellings from the Ming and Qing dynasties, many of which house charming workshops, hosting classes on wine making, fabric dyeing, and weaving. Zhouzhuang is a convenient place to see great scenery.
Summary: 1.5 hours drive from downtown Shanghai; the most famous water town in China; very commercialized and crowded.
Wuzhen Ancient Water Town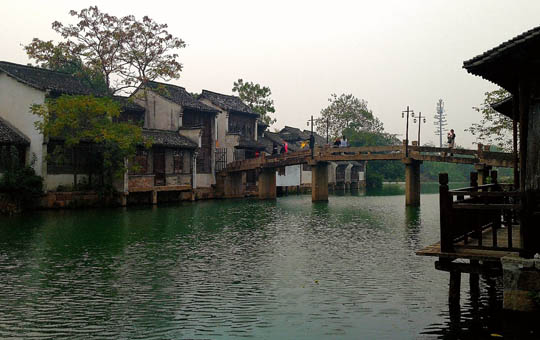 One of China's most beautiful ancient water towns, Wuzhen appears exactly as it would have during the late Qing Dynasty and the Republican period. Visitors can watch folk performances such as printing and dyeing, making cloth shoes, and tobacco planting, getting hands-on with old equipment to see what life used to be like in this area hundreds of years ago.
Summary: 2 hours drive from downtown Shanghai; a beautiful ancient water town with many well-restored hotels; commercialized and crowded.
Zhujiajiao Ancient Water Town
Just an hour's drive from downtown Shanghai, Zhujiajiao Water Town makes for a pleasant half-day tour. Zhujiajiao is home to one of the largest gardens in southern China, the Majia Garden, and more than 10,000 original structures from the Ming and Qing Dynasties (1368-1911).
Summary: Near to Shanghai and suitable for a half-day tour; very commercialized and crowded.
Tongli Ancient Water Town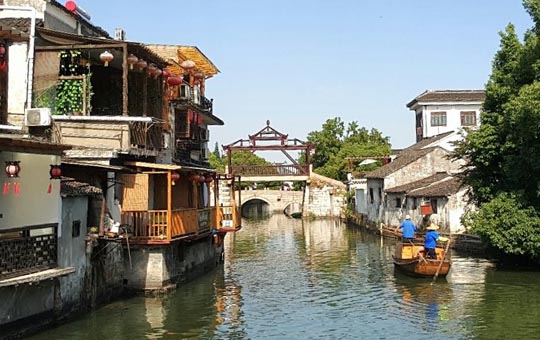 Tongli Water Town is a small but well-preserved village with typical Ming and Qing buildings and bridges. Tongli is a vibrant and functioning water town that is still home to many local people, offering an authentic glimpse of life in this part of China.
Summary: 1.5 hours drive from downtown Shanghai; a vibrant, functioning water town; less commercialized and not crowded.
Xitang Ancient Water Town
Xitang, well-known for its numerous bridges, lanes, and covered corridors, is just like the water towns in Zhouzhuang and Wuzhen, with the added advantage that it is not as popular with tour groups and thus offers plenty of peace and quiet for photo opportunities.
Summary: 1 hour drive from downtown Shanghai; less commercialized and not crowded, great for photography.
Luzhi Ancient Water Town
With a history of more than 2,500 years, Luzhi is well known for its bridges, many of which have not been altered since they were first built, earning Luzhi the nickname the "Museum of Ancient Chinese Bridges." In addition to the old bridges, there are a number of houses from the Ming (1368-1644) and Qing (1644-1911) dynasties, which, unlike some of the other ancient water towns, have not been reconstructed.
Summary: 1 hour drive from downtown Shanghai; well-known for its many ancient bridges; less commercialized and not crowded; great for photography.
Nanxun Ancient Water Town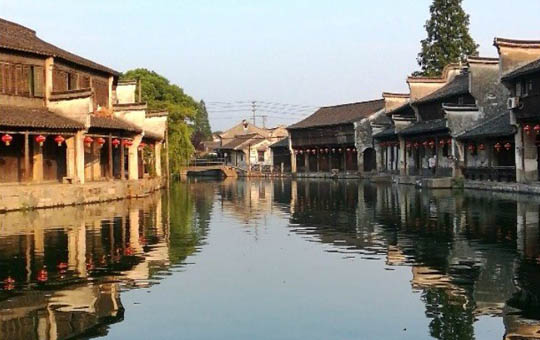 Nanxun is not as well-known as other water towns like Zhouzhuang and Tongli but as a result it also has the most tranquil atmosphere. The architecture in Nanxun is a fascinating combination of traditional Chinese elements and 18th century European elements, making it great for history buffs.
Summary: 2 hours drive from downtown Shanghai; the most tranquil and undeveloped water town; great for photography.
Tips for Visiting the Water Towns
Number one on the list of tips for visiting a water town is, without a doubt, how to avoid the tourist crowds since most water towns are full of tourists. Firstly, be sure to avoid weekends and Chinese holidays. Second, if you only have time to do a day tour, we suggest visiting a less crowded town, such as Tongli, Xitang, Luzhi or Nanxun. However, if you have time to spend a night then you could visit a busier town like the Zhouzhuang, Wuzhen or Zhujiajiao. By staying overnight in the water town, you can enjoy the bustling night life and then have some peaceful time in the morning before the tour groups arrive. Learn more about how to avoid the crowds when traveling in China on our blog.
There are lots of things that you can do while visiting a water town: take a boat ride through the canals, walk down the narrow lanes and visit the well-preserved historical sites and old arched bridges, photograph the picturesque corners of the old town or the local people going about their daily lives, have lunch at one of the restaurants by the canal, enjoy a folk performance or try a hands-on folk art workshop. There are hundreds of shops and restaurants in the more popular water towns.
Be sure to wear sturdy, comfortable shoes, as you may need to step on and off boats, walk on cobbled walkways, and cross small paved bridges. Unfortunately, most of the water towns are not very wheelchair friendly.
Most of the water towns can be seen as a day trip from Shanghai, or as a stop between Shanghai and Suzhou. Try to visit the water towns during spring or autumn, when they are at their best.