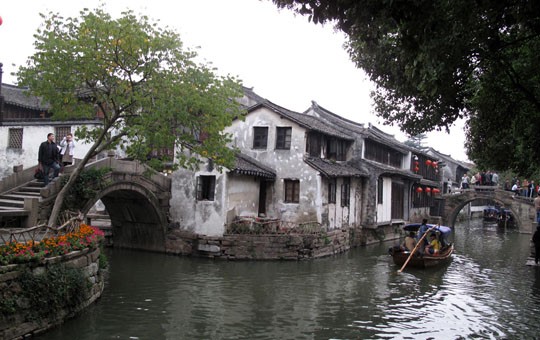 Zhouzhuang Water Town is one of the most famous of the many charming canal towns surrounding Suzhou and while it has been more commercialized than some, it is equally atmospheric. It offers all the same activities, including canal cruises, shopping and strolling through narrow alleyways, and more, all in an authentic, historical setting.
Highlights and Travel Tips
First established over a thousand years ago, Zhouzhuang is one of China's best-known water towns, and it is famed for its flowing canals, winding lanes, and well-preserved traditional architecture, including historic houses and arched bridges stretching across the waterways.
While in Zhouzhuang, you can enjoy a delicious home-cooked meal in a restaurant along the canals or stop for a coffee or tea while looking out at the ancient waterways. You may also opt to take a cruise ina traditional rowboat along the town's canals. Otherwise, simply walking along the banks of the canal and venturing into the surrounding network of alleyways, checking out local shops and admiring the historic town on your path, is a rewarding way to pass your time in Zhouzhuang Water Town.
As one of the area's most famous and popular water towns, Zhouzhuang is slightly more commercialized and crowded than its smaller neighbors, like Tongli, but it is also larger, so there is more to explore. We recommend visiting early in the day to avoid the crowds and large tour groups. A visit to Zhouzhuang makes for a great day trip or half-day trip from Suzhou.
Opening Hours and Ticket Prices
Opening hours: all day
Entrance fee: 100 RMB
Recommended duration of this activity: 3 hours
How to Get There
Zhouzhuang Water Town is about 30km (18 miles) from Suzhou and easily be reached by car or bus in about 30-40 minutes.
Popular Suzhou Tours