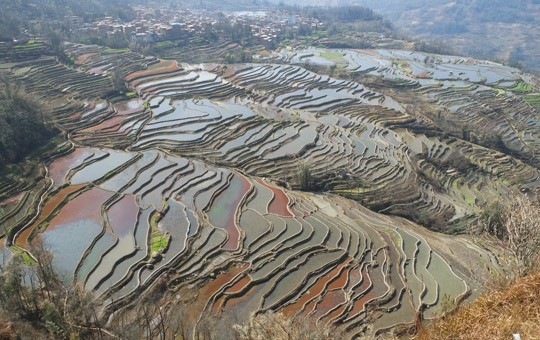 The cultural landscape of Honghe Hani Rice Terraces covers 16,603-hectares in Southern Yunnan, featuring spectacular terraces that spread down the slopes of the Ailao Mountains to the banks of the Hong River. The terraces, spanning around 1200 years of history, are distributed throughout four counties — Yuanyang, Honghe, Jinpin, and Lüchun. The core part though is located in Yuanyang, home to the three largest terraced areas of Bada, Laohuzui, and Duoyishu, making of this the best county for viewing Hani terraces.
Highlights and Travel Tips
The sunset and sunrise views are the highlight of any visit to the Yuanyang Hani Rice Terraces. The Laohuzui Terraces are the steepest and the best spot to view sunsets. Duoyishu Terraces are the best scenic spot for viewing and photographing terraces at sunrise. The Bada terraces are spectacular with their apparently vertical levels: from the Mali river at an altitude of 2624 feet (800 m), thousands of terraces are continuously stretched to the top of the mountain at an altitude of 6561 feet (2000 m). The Laoyingzui Rice Terraces, part of the Bada Rice Terraces, allow you to take in breathtaking views that extend out beneath a cliff.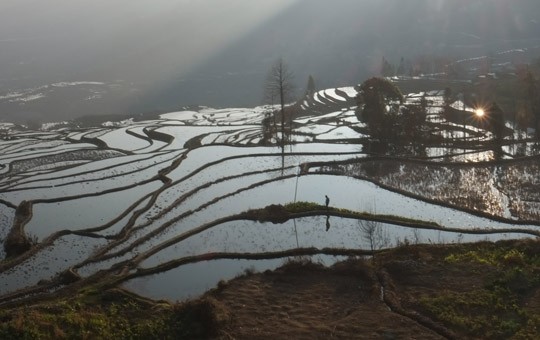 The rice terraces are dotted with many traditional Hani villages. Qingkou maintains the Hani folk customs and features thatched "mushroom" houses, deserving a visit in between exploring the rice terraces. The local markets are also colorful and authentic, but be aware that they don't happen every day, so make sure to check their schedule with your guide or travel consultant.
There are good guest houses in the villages. Since the viewpoints are relatively distant from each other and there is no public transportation, we recommend hiring a driver to explore the area. Remember to wear good trekking or walking shoes and be careful while walking in the rice fields or in the villages as the paths may be slippery.
Best time to visit
Generally, the best time to visit the terraces is from November to March, when the terraces are filled with water which shines brightly under the sunlight or reflects the sky.
Please note that it's hard to predict whether the weather will be clear or the sunrise/sunset will be breathtaking. The mirror effect you see in the photos isn't commonly visible.
Popular Tours