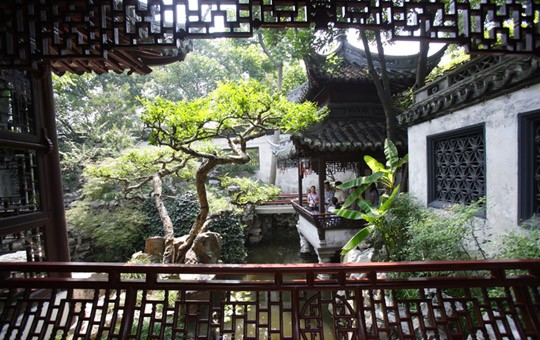 Yuyuan Garden, also known as Yu Garden, is an ancient garden built over 400 years ago during the Ming Dynasty. These exquisite gardens in the heart of Shanghai are an iconic example of traditional Chinese garden architecture and a popular destination for visitors to the city.
Highlights and Travel Tips
Finely cultivated with an eye for style and detail rarely seen in modern gardens, Yuyuan Garden is a peaceful retreat from the crowded city streets. Yuyuan Garden is also a good preview of what you will see if you plan on visiting the historic gardens of Suzhou not far from Shanghai.
Although the garden is not enormous (it occupies an area of about five acres northeast of Shanghai Old Street), it features a number of attractions, from ancient pavilions and pagodas to scenic ponds, and includes six main scenic areas: Sansui Hall, Wanhua Chamber, Dianchun Hall, Huijing Hall, Yuhua Hall, and the Inner Garden. All of the sections are unique and have their own special charms.
One of the garden's main attractions is the Exquisite Jade Rock, a large, porous rock that was beloved by the garden's creator, a government official from the Ming era named Pan Yunduan. Another popular activity is to climb to the top of the Great Rockery, one of the largest and most impressive in the region, which offers great bird's eye views of the surrounding gardens.
The main paths in Yuyuan Garden can get a bit crowded, but there are plenty of smaller areas of the garden where you can find some peace and quiet. To avoid the crowds, we recommend going to the gardens in the morning or on a weekday.
Just outside the garden itself, you will find Yuyuan Bazaar, an area with hundreds of shops and stalls selling souvenirs and snacks. There are also a number of teahouses and restaurants in this area where you can find a decent lunch, as well as some Western chains like Starbucks and Häagen-Dazs.
Opening Hours & Ticket Prices
Entrance fee: 40 RMB (April–June, September–November); 30 RMB (July–August, December–March)
Opening hours: 9:00am until 5:00pm with last admission at 4:30pm
Recommended duration of visit: 1.5 hrs
Popular Tours