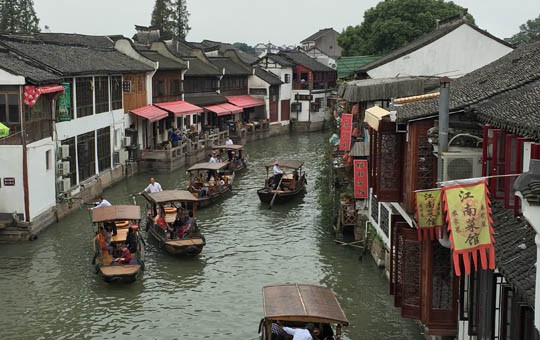 China's many man-made canals are an iconic and picturesque reminder of its ancient past, and it's still possible to see many of these waterways almost exactly as they were thousands of years ago.
Zhujiajiao Water Town, located on the outskirts of Shanghai, is a typical example of China's historic canal towns and is famed throughout the country for its well-preserved ancient architecture and rivers. Visiting Zhujiajiao is a great way to escape from the commotion of the big city and makes for a great morning activity or daytrip for those visiting Shanghai.
Highlights and Travel Tips
Known as the "Venice of Shanghai," Zhujiajiao Water Town is an idyllic retreat and features several archetypal characteristics of China's ancient water towns, including peaceful canals, ancient stone streets and bridges, and several homes and buildings that date back to the Ming Dynasty (1368-1644).
You can enjoy Zhujiajiao's narrow, zigzagging streets and graceful canals by simply walking around the town. Another popular method for appreciating this famous water town's bucolic atmosphere is by boat. For a reasonable fee, you can take a ride in a traditional canal boat and tour the town's most scenic spots.
The town's 36 bridges offer superb views of the many waterways and are a well-known attraction. Fangsheng Bridge is the longest and largest of these bridges and dates back to the 1500s. Lang Bridge is the town's only wooden bridge and was built in the form of a long, traditional corridor that stretches across the canals.
North Street is another popular destination in Zhujiajiao due to its numerous ancient buildings. The street is just one kilometer long and so is easy to cover, and it features several historic buildings and bridges from the Ming and Qing dynasties.
Just across the Dianpu River from North Street, you will find Kezhi Garden, a particularly large and beautiful traditional garden. You can climb to the top of the garden's central hill to reach Moon View Pavilion, the highest point in the town.
Zhujiajiao Water Town can be easily accessed from Shanghai by taxi, bus, or subway.
Recommended duration of this activity: 2-3 hours
Entrance fee: There is no fee to visit Zhujiajiao Water Town, but many of the sites in the town do charge a fee. If you'd like to take a boat cruise, you can purchase a 120 RMB ticket to do so—this ticket also includes access to nine of the town's most popular attractions. A 60 RMB ticket will gain you access to eight of the same attractions, but does not include a boat cruise.
Popular Tours