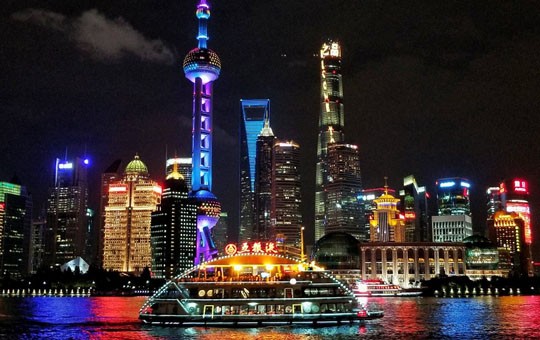 There is no better way to enjoy views of both the towering skyscrapers of Pudong New Area and the Bund's characteristic colonial architecture than via a cruise along the Huangpu River, the waterway that cuts through the heart of Shanghai. A popular activity among visitors, this cruise will give you a unique glimpse of Shanghai's one-of-a-kind mix of old and new.
Highlights and Travel Tips
The Huangpu River Cruise leaves from Shiliupu Wharf, at the southern end of the Bund. Tickets can be purchased in person at the wharf. There are cruises of varying durations, ranging from 30 minutes to 3.5 hours, so you can choose which route and length is best for your schedule. The most popular route, and the one we recommend for most visitors, is the standard 50-minute trip, which takes you past all of Pudong's most impressive skyscrapers, including Shanghai Tower, Shanghai World Financial Center, and Oriental Pearl TV Tower, as well as the Bund's many famous buildings. This cruise route circles back and ends at its starting point, Shiliupu Wharf.
We recommend taking the Huangpu River Cruise in the evening to make the most of Shanghai's impressive nighttime lights. Cruises usually leave every hour during the day and every 15 minutes at night, although the exact schedule varies by season. Be sure to arrive at least 10 minutes before your departure time to allow enough time for boarding.
Cruise boats vary in terms of size and amenities—some are more modern and are equipped with a bar and restaurant, while others are more basic, although all are perfectly safe and comfortable. Since you'll likely be spending most of your time on deck taking pictures of the amazing skyline, the amenities inside the boat may not affect your experience too much. If you prefer to sit and dine in comfort during the ride, you can select one of the cruises that includes a meal.
How to Get There
Located directly south of the Bund, Shiliupu Wharf can easily be reached by car, bus, or subway. You may also be able to walk there, depending on where you are heading from. The wharf is just a short 10-minute walk from Yu Garden, for instance.
Opening Hours and Ticket Prices
Opening hours: 11:00am - 9:30pm
Ticket price: 120 RMB (sightseeing only, no meal or snacks—prices vary for cruises that offer food)
Recommended duration of this activity: 1-2 hours
Popular Tours