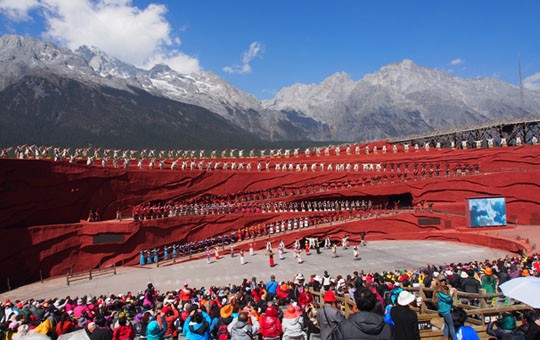 The Impression Lijiang Show was created by Zhang Yimou, director of the 2008 Beijing Olympics opening and closing ceremonies. The show features hundreds of actors and horses in an open-air theater at 10,170 feet (3500 meters). With the Jade Dragon Snow Mountain as the backdrop, the scenario is spectacular on a clear day. The show depicts local folklore and it includes dancing and singing by local minority people. Please note that the show doesn't have a plot, it is more of a display of culture. Since it happens in the daytime, there are no light effects that you may usually see at some other shows in China.
Being an open-air theatre, there is no shelter from the rain or sun. The sun can be very intense due to the high altitude, so you should bring sunblock, a hat, or maybe an umbrella. There are English subtitles on a big screen which can be helpful for foreign audiences.
The show can be conveniently combined with a trip up the Jade Dragon Snow Mountain.
Schedule & Ticket Prices
Show times: varies according to the seasons
Ticket prices: 280 RMB, 346 RMB (VIP)
Average time for this activity: 1 hour

Popular Yunnan Tours