Ten of the Most Beautiful Places in China You Have Probably Never Heard of
Zuletzt aktualisiert am 2018-08-09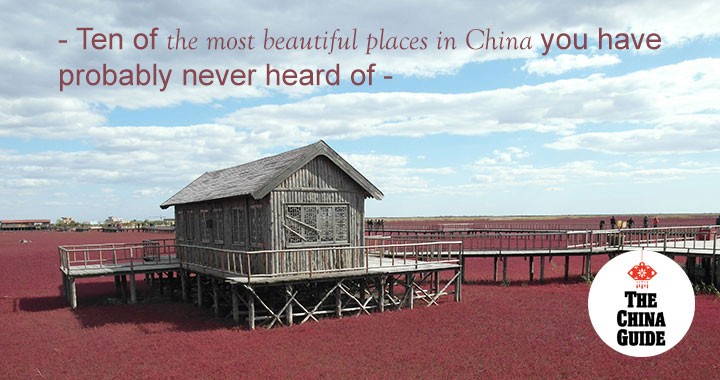 China is full of stunning scenery both natural and manmade but a handful of well-known sights - we're looking at you, Great Wall - do tend to hog the spotlight. In this blog, we introduce a couple of sights that you might not have heard of but are definitely worth including on your itinerary.
Emerald Isle, Qinhuangdao, Hebei Province

You may not associate northern China with pristine, golden sandy beaches but that is exactly what you'll find at Emerald Isle, located in the city of Qinhuangdao a few hundred kilometers east of Beijing. This isle is actually a peninsula and is part of a national-level marine nature reserve. The area is famed for the aforementioned golden beaches, which are backed by huge sand dunes that rise up to 44 meters tall. It is also home to many different species of seabirds, many of which are endangered.
Thousand Island Lake, Zhejiang Province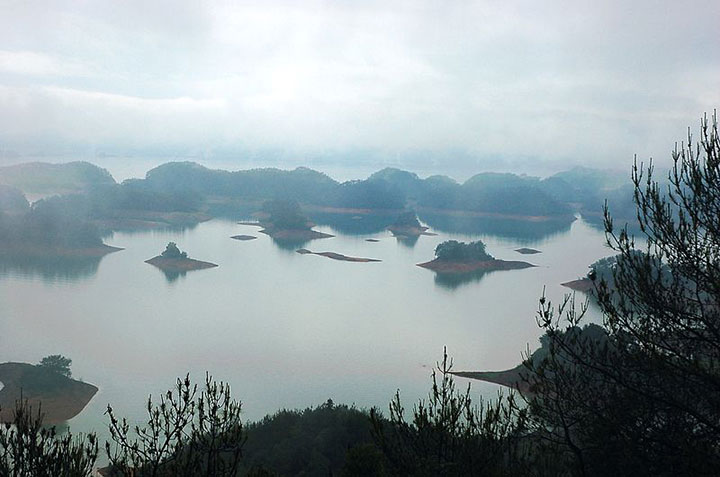 Thousand Island Lake proves that manmade features can be just as beautiful as natural ones. The lake, which is located in Zhejiang province about 140 kilometers south of Mount Huangshan, was formed in 1959 when a valley was flooded as part of the Xin'an River hydroelectric dam project. The lake is renowned for its crystal-clear waters, verdant forests (over 90 percent of the area is forested), and beautiful scenery. The best way to experience all of the above is to take a boat from one of the three wharfs located around the lake.
Huizhou villages, Anhui Province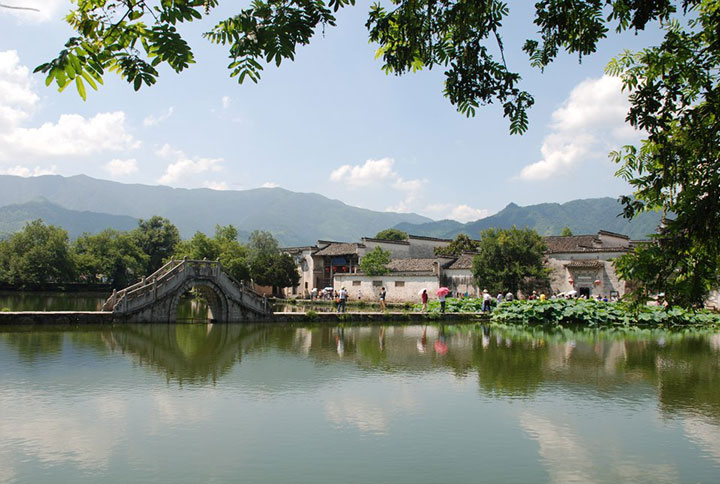 The villages that dot the lush green countryside in southern Anhui, a region known as Huizhou, are a precious slice of old China. The merchants of Huizhou, known collectively as the Huishang, were renowned for their economic prowess. They used their growing fortunes to build large, elaborately decorated residences, many of which are still standing today. Among them, the villages of Xidi and Hongcun were declared UNESCO world heritage sites in 2000. You can wander for hours getting lost in the maze of cobbled streets, lavish ancestral halls, quaint bridges, and beautiful ponds.
Longji Rice terraces, Guangxi Province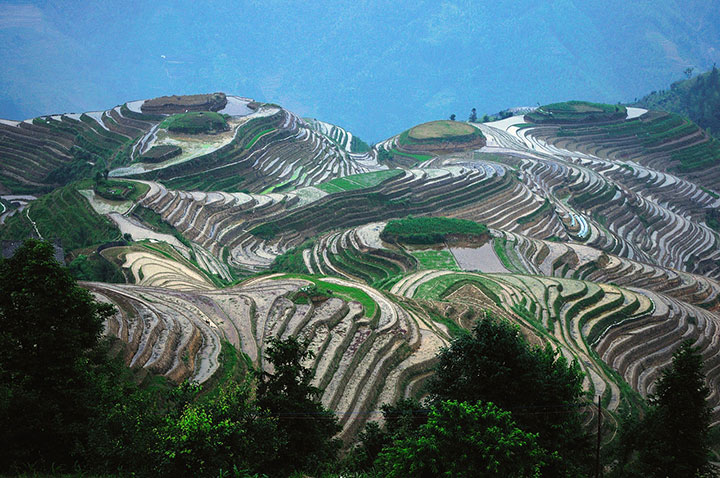 The Longji Rice Terraces are located about 100km outside of Guilin. The rice terraces were first constructed in the Yuan dynasty (1271-1368). A mind-boggling feat of agricultural engineering, the seemingly endless rows of rice terraces carved into to the hillsides are said to resemble the rippling scales on a dragon's back when filled with water, giving the terraces their name, which literally means "dragon's backbone." There are plenty of options for hikes and excursions around the rice terraces depending on how strenuous or adventurous you want to go. Although the trip can be done in a day from Guilin, we recommend staying the night in a guesthouse in one of the villages so you can sample some of the local cuisine and soak up the relaxed atmosphere.
Yarlung Tsangpo Grand Canyon, Tibet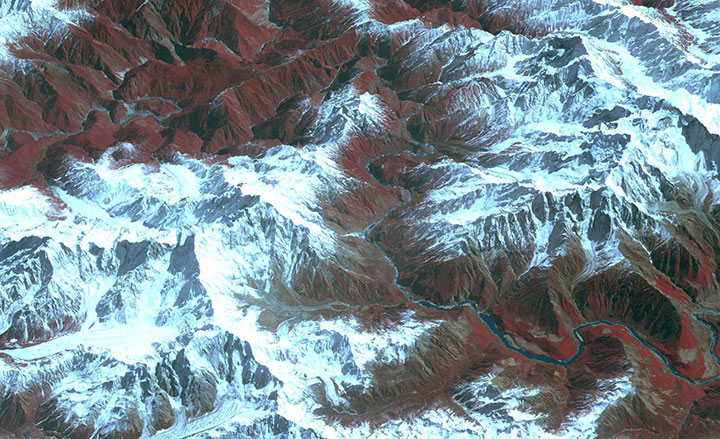 The Yarlung Tsangpo Grand Canyon is the deepest canyon in the world, running 504.6 kilometers along the Yarlung Tsangpo River (the Tibetan name for the Brahmaputra). Vertiginous cliffs topped by snow capped mountains, rolling rapids, glaciers, and waterfalls all add up to make this one of the most stunning natural wonders in Asia.
Wuyuan, Jiangxi Province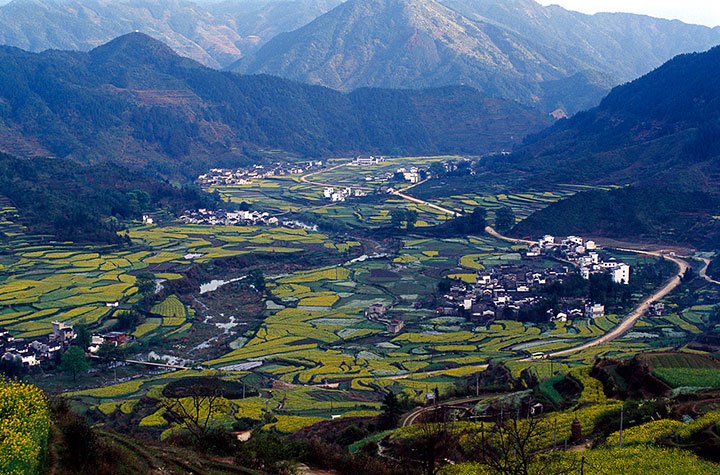 Wuyuan is a county in northeastern Jiangxi province renowned for its beautiful countryside and well-preserved ancient architecture. Many of the buildings and villages date from the Tang dynasty and have been protected by the county's remoteness and relatively inconvenient transportation. The area is particularly famous for the fields of yellow rapeseed flowers that surround the villages in March and April, which are among the most beautiful in China and will delight photographers. One of the best places to see the flowers is hills surrounding the village of Jiangling.
Fenghuang Ancient Town, Hunan Province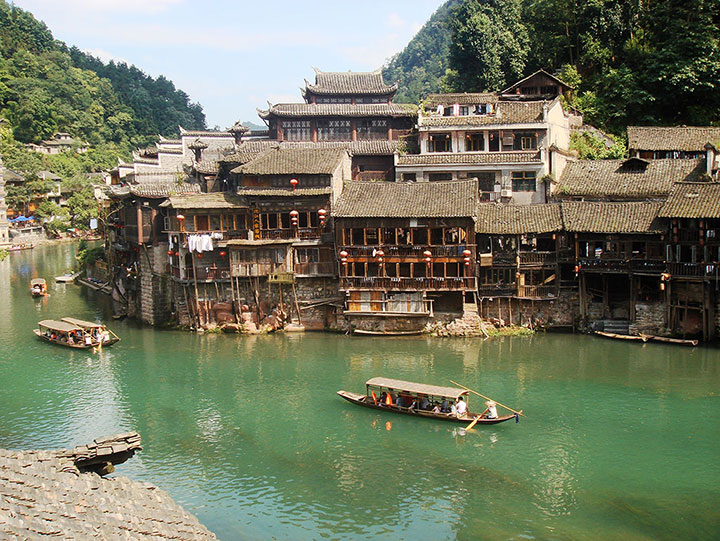 Fenghuang is an exceptionally well preserved ancient town on the western border of Hunan province. Fenghuang means phoenix in Chinese and according to legend two of these mythological birds once flew over Fenghuang and found it so beautiful that they were reluctant to leave. Over the course of hundreds of years, Fenghuang's diverse population, enriched by its advantageous economic and strategic position, built a beautiful town of winding streets and wooden stilt houses. The wooden houses that jut out over the Tuo River are one of the most iconic images of Fenghuang. If your itinerary allows, we recommend spending the night in town; the buildings are lit up at night, making for a magical sight.
Singing Sand Dunes Park and the Crescent Moon Lake Oasis, Dunhuang, Gansu Province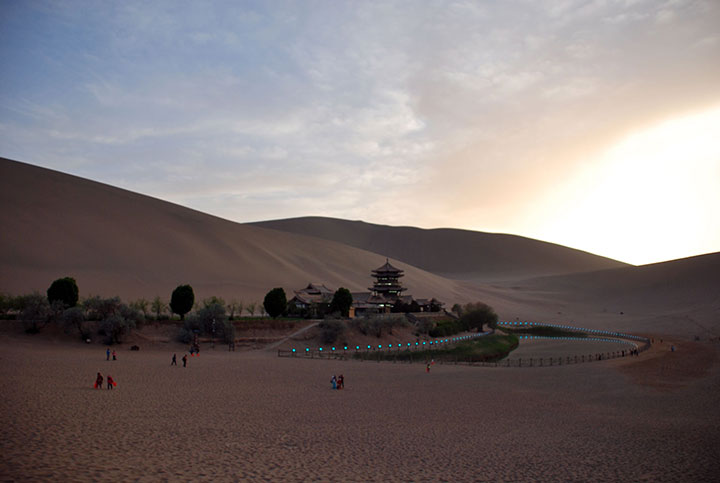 Part stunning natural landscape, part desert amusement park, this designated natural scenic zone offers something for everyone. The Crescent Moon Lake oasis is the park's crowning jewel. Surrounded by towering sand dunes, this pool is the reason for Dunhuang's importance as a Silk Road stopping point. It is a spectacular place to watch the sunrise or set.
Panjin Red Beach, Panjin, Liaoning Province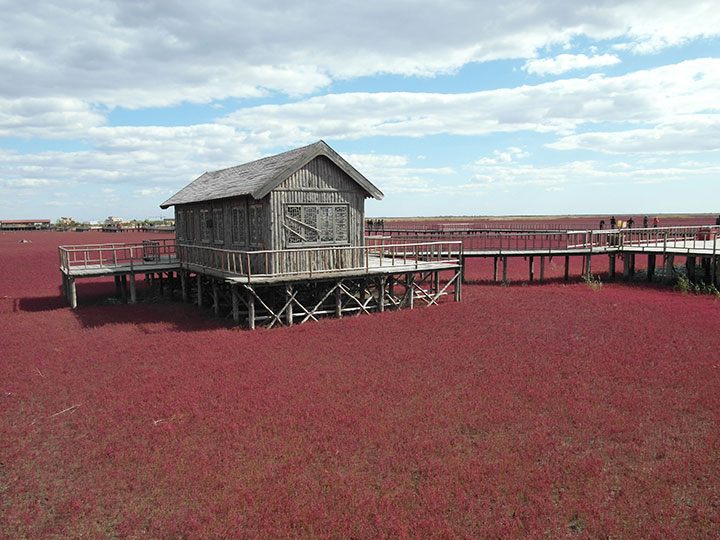 When you think "beach" you probably think "golden sand" not "bright red" but that is exactly what you'll see if you visit Panjin Shuangtaizi River Mouth Nature Reserve, the biggest wetland and reed marsh in the world. The bright red color isn't created by the sand; rather, it is created by a type of grass called suaeda salsa, which turns bright red when it matures in autumn. The red grass creates a stunning scene that wouldn't look out of place on Mars, let alone the coast of northwestern China! The best time to visit Panjin Red Beach is late August to early October, when the grass is at its most colorful.
Namtso Lake, Tibet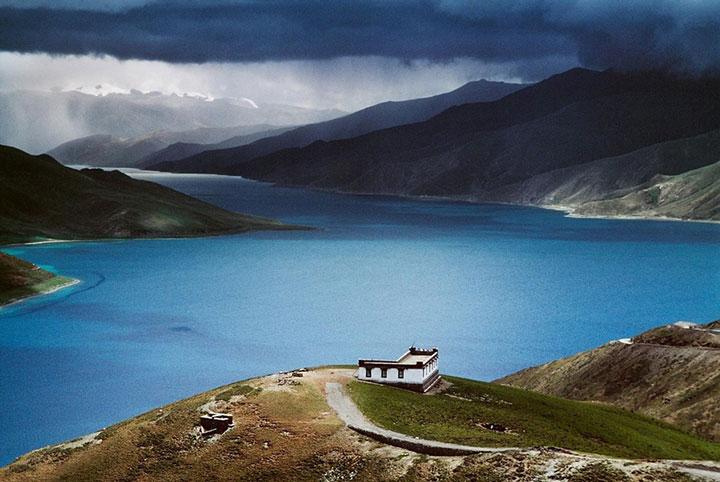 Meaning "Heavenly Lake", Namtso Lake certainly is breathtaking in more ways than one; not only is the lake itself sensationally beautiful, but also the altitude of 4,718metres above sea level is certain to leave you short of breath! One of the three Holy Lakes in Tibet, Namtso's water is a striking blue color and stretches out seemingly forever in front of the dramatic snow-capped peaks of the Himalayas. Join the pilgrims, monks and wild yaks that amble along the serene shores of this magical lake in a clockwise direction in order to receive blessings from God. ■
---
Images: Wikimedia, Robynne Tindall, © Peter Danford, jpl.nasa.gov