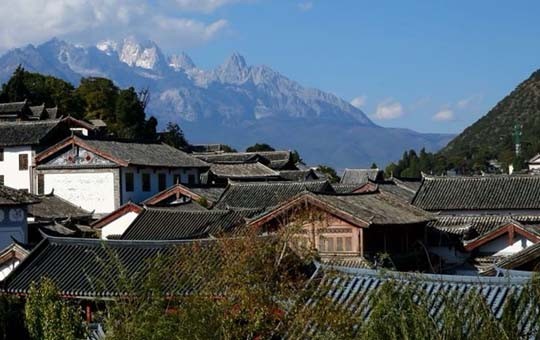 Located in a remote area of the Yunnan province, on the eastern side of China, away from the sprawling metropolises of Shanghai and Beijing, lies a quiet and remote village where the weather, for the most part, is nice and calm and the air quality is as astounding as the Naxi culture you find within the village. Welcome to Lijiang!
Lijiang is a small city that is entrenched in its culture and possesses a rich history that spans over 800 years dating back to the ancient times of the Qing and Ming Dynasties. If you're a tourist looking to escape the hustle and bustle of the city, and are willing to step even a little further outside of your comfort zone, in which not very many westerners or tourists will be found, then you have discovered the right place. A visit to Lijiang is as authentic as China will get to any tourist seeking to become completely immersed in ancient Chinese history and culture. It would be, without a doubt, an unforgettable experience to visit such a unique, remote village.
Location and Transportation
Southwestern portion of China in the Yunnan province, near the northwest portion of the province. It is quite a remote city in China in which not very many cities are near it. There is only one airport and a one-passenger railway station, which adds to the authenticity of this remote city. There is also a one passenger railway station, which leads to a direct route to Kunming, which is the next closest city.
Nearby Cities:
Dali (129 km/80 mi away) (approximately 2 and a half hours away by car)
Kunming (517 km/321 mi away) (approximately 6 and a half hours away by car)
Shangri-la (182 km/113 mi away) (approximately 3 and a half hours away by car)

Highlights and Travel Tips
The city of Lijiang has quite a bit of ancient history spanning from The Ming and The Qing Dynasty which totals out to over an 800-year history. The Old Town of Lijiang is home to the Naxi people as they are a small minority group in China. The city is most famously known for their Chema Road Trade route, which made trading goods between the southern portion of China and Tibet possible.
The city of Lijiang is also best known for their year around near perfect weather (average low in January 0 degrees Celsius (32 degrees Fahrenheit) and average high in June is 24 degrees Celsius (75.2 degrees Fahrenheit). There is also breath taking natural scenery all across the city such as The Leaping Gorge and The Jade Dragon Snow Mountain.
Lijiang is a city where, previously, not very many tourists explored until recently. It has gained popularity due to it's natural scenic routes and breathtaking natural beauty. The area of the city of Lijiang is approximately 7.3 square kilometers. It is highly suggested to travel by foot or bicycle within the city.
Lijiang Tourist Attractions
Lijiang Old Town: A very well preserved old city with over 800 years of ancient Chinese history spanning from the Song and Yuan Dynasty. This city, also known as Dayan Old Town, is filled with an eclectic mixture of culture and modern day feel of China
Jade Dragon Snow Mountain: Located in a national park 9 miles (15 km) outside Lijiang, the Jade Dragon Snow Mountain is a symbol of the town and can be seen on clear days. A trip up the mountain is best done in the Swiss made cable car in 12 minutes.
Impression Lijiang Show: With the Jade Dragon Snow Mountain in the background, the show highlights dancing and song of the Naxi minority people.
Tiger Leaping Gorge: Around 15 kilometers (9 miles) in length, the gorge is located where the river passes between the 5,596-meter (18,360-foot) Jade Dragon Snow Mountain and the 5,396-meter (17,703-foot) Haba Snow Mountain in a series of rapids under steep cliffs. This Gorge boasts one of the best hiking routes in the world.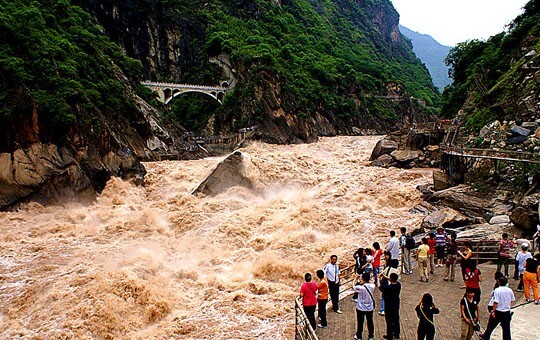 Zhongyi Market: A very popular market within the city where the locals sell their produce and products. This is also a very well kept ancient monument of Lijiang.
Mu Family Mansion: This mansion used to belong to the Mu Family, which became the hereditary rulers of Lijiang. This residence was first built in 1382 and has a very similar layout to the Ming Dynasty Palaces, which also has a similar resemblance to the Forbidden City in Beijing.
Museum of Naxi Dongba Culture: Founded in 1984, this museum and research center was designed to conserve and inform tourists, and locals of Lijiang, about the Naxi Ethnic Minority people and their culture as they were the first original population to inhabit this ancient city.
Eat in Lijiang
Lijiang offers a wide array of culinary masterpieces that will satisfy even the most adventurous food eater out there. From traditional Yunnan province dishes to even western style dishes, one can find it all in the Lijiang district no matter what you're craving. The following are local cuisine suggestions that can be found around town:
Lijiang Stuffed Bun: The Lijiang stuffed bun is a unique delicacy that originates from the Naxi nationality comprised of non-perishable food. Essentially, regardless of when you might consume this delicacy, it never mildews away even after a couple of days of its preparation. For this reason, this delicacy is very much desired by tourists and even distant relatives around the world.
Lijiang Baba: This other Naxi dish is popular amongst street vendors that can be found all around Lijiang preparing this dish. Lijiang Baba is comprised of a pancake style piece of dough, which is dropped onto a frying pan added in with about an inch of hot oil. A whole egg is cracked onto the middle of the dough along with some chopped up green onions and other vegetables of choice. Having some Lijiang Baba is definitely a good wake up call to begin your mornings.
Chickpeas Bean Jelly: A famous snack on the streets of Lijiang, Chickpea Bean Jelly is comprised of Chickpea, which is a type of soybean in the shape of a chicken's eye. Hence the name "chickpea" is given as this means "chicken's eye" in Chinese.
Salted Pork Ribs Hot Pot: This is a staple dish in the Naxi culture and is famous for its preparation of the pork ribs, which takes up to several months to prepare. These pork ribs are salted with wine, sugar, spices, and other seasonings that make up an extravagant taste unlike any other. This Hot Pot dish is a must have for anyone looking to fully immerse themselves in the Naxi culture while in Lijiang.
Night Life
The nightlife in Lijiang is by far very different from the rest of China due in large part to the strong influence the Naxi culture has on the city. Throughout the evening, one can find several recreational activities all around the Old Town of Lijiang from traditional Naxi dances, to several local pubs to grab a drink. One thing is for sure, there is never a dull night in Lijiang.
Naxi Orchestra: Attending a live performance of the Naxi Orchestra inside a beautiful ancient building can be a great way of spending the evening in town. The songs this orchestra performs are known to be ancient renditions of melodies from the Han, Song, and Tan Dynasties that cannot be duplicated anywhere else in China.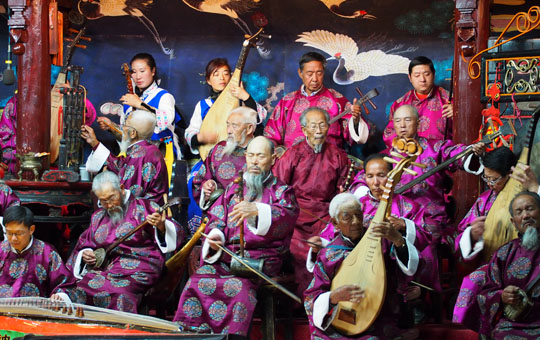 Le Petit Paris: Known for its romantic atmosphere thanks in large part to it's French owner and Chinese wife, this pub is a sure way to spend a romantic evening around town with your significant other. This pub is also known for it's antiphonal singing from the local Naxi maidens throughout the night. Anyone in the audience is encouraged to join in on the singing as well.
Guan Fang Nightclub and Bar: Besides the fact that this place has a nice dance floor and plays mainstream westernized music for all tourists to enjoy, this nightclub also shows the Naxi musical performers also. It brings a unique mixture of modern day nightclubbing along with the rich culture that is found all around Lijiang.
Neighbour of the Sun: This pub is completely decorated in traditional Naxi style ornaments that gives any traveler the full experience of the local culture found around town. Since Lijian is widely recognized around China as the most romantic city, this pub definitely gives off the romantic atmosphere once you step foot inside. The decorations found inside the pub are also related to a beautiful love story of the Naxi people.
Best Times to Visit
Lijiang is filled with many festivals and holidays throughout the year, which makes visiting this ancient city an exuberant time year around.
Bangbang Festival: Held every January 15th of each year, this festival begins in Lijiang Old Town and lasts three days. During these three days, this festivals holds trade, flower exhibitions, religion, and folklore performances which makes this festival a sight to see.
Sanduo Festival: Held each February 8th, this is regarded as the most traditional festival of the Naxi people. The basis of this festival is to pay homage to the Naxi People's protection God named Sanduo. This festival includes ancient Naxi musical performances, singing, dancing, horse racing, and picnicking at local parks.
Dongba Festival: Held on March 5th, this festival takes place in Jade Water Village (approximately 19 km (a 30 minute car ride) from Old Town Lijiang) where the Naxi people will dress up in traditional tribal outfits, and gather at the Dongbashenluo Temple early in the morning. During these rituals the Naxi people burn incense to worship their god and past ancestors. The Dongba leaders will hold traditional chants and prayers during these ceremonies.
Torch Festival: Held from June 25th to 27th, The Naxi people hold this festival in Lijiang Old Town and their villages. They burn torches in front of their homes and in their hands and run through rice fields singing traditional songs. The Naxi people view this burning torch as an auspicious sign.
July Festival: Held in the middle of every July, this festival lasts 10 days and mainly involves trading livestock's, herbs, and various other special objects of the Naxi people. This festival can be viewed as a unique look into the local people's everyday lives.
Zhuanshan Festival: Held every July 25th, this is by far regarded as the most important festival of the Mosuo People. On this day is the birthday of the Mosuo People's ancestor, which is why it is such an important holiday. During this time the Mosuo people will hold traditional dances and activities to pay homage to their female God. During this time the Mosuo people also make an attempt to find their potential walk marriage partner.
Lijiang Tours