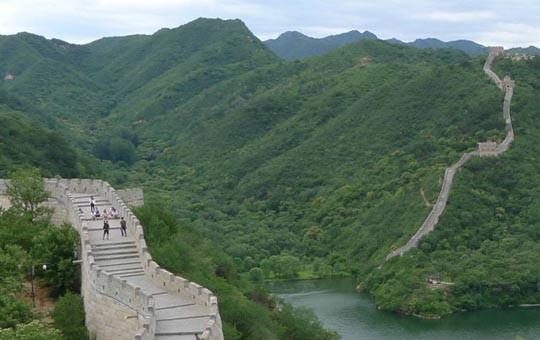 Huanghuacheng Great Wall, literally "Yellow Flower Wall," owes its name to the sea of yellow wildflowers that bloom alongside it in the late spring and early summer. Officially called the Lakeside Great Wall, the main feature of the Huanghuacheng section is part of the Great Wall submerged in a lake.
Located about 70 km from Beijing, the Great Wall at Huanghuacheng stretches for 13km and sees fewer tourists than Badaling or Mutianyu.
Highlights and Travel Tips
The Ming emperors built an outer Great Wall and an inner Great Wall to better defend themselves from the threat posed by their northern neighbors. Huanghuacheng is part of the inner Great Wall and connects with Mutianyu to the east. In addition to defending the Ming emperors, Huanghuacheng served as their burial site, which would later come to be known as the Ming Tombs.
Huanghuacheng is unique among the different sections of the Great Wall, because some of its sections are submerged in water. This is the only lakeside Great Wall near the Chinese capital and the only such portion of the Wall open to tourists, offering visitors the chance to take a boat and view the wall from a different angle. Most parts have been restored to their former Ming dynasty glory.
Opening Hours and Ticket Prices
Opening hours: April to October: 8:00am-5:00pm; November to March: 8:00am-4:30pm
Entrance fee: 60 CNY
Boat cruise: 35 CNY (one way) / 45 CNY (round trip)
Boat rental: 80-200 CNY / hour (varies according to boat type)
Average time for this activity: 1/2 day
How to Get There
Visitors can take bus 916 or 916 Express from Dongzhimen Transportation Hub to Huairou Bus Station. From Huairou Bus Station, board bus H21 and get off at Small West Lake. From there it is a short walk to your destination. For visitors who have limited time, it is better to hire a private car or participate in a organized tour to visit Huanghuacheng Great Wall.
Popular Tours