Shopping Wisely as a Tourist in China
Last updated on 2020-05-08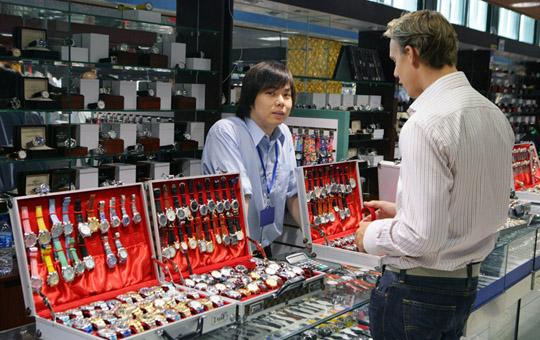 Shopping for souvenirs is an important part of a trip for many travelers and China truly is a treasure trove for those who like to shop. That said, shopping in China can be a little complicated: it's important to avoid paying higher-than-normal prices by sellers who frequently overcharge tourists, and you need to watch out for counterfeit products, like fake antiques, since this is not uncommon in China.
In this article, we will give you some tips for shopping for reasonably priced, authentic souvenirs in China to help optimize your shopping experience during your travels.
Where to buy things in China?
When you are traveling in China, you will likely see shops near the entrance of the sights you are visiting, or your guide may take you to a factory shop on the way to your destination. These shops mainly serve tourists. While some of these shops, especially those in big cities and near some famous tourist sights, only sell genuine things, prices are usually much higher there than in normal markets, and your guide or travel agency might get a commission from what you spend there.
However, these shops are usually very close to the sight you are visiting, making them a convenient and quick shopping stop. If you find something you like and the price is reasonable, you can certainly buy something there, but we usually don't suggest our clients buy valuable things at these shops.
Markets are mainly used by locals and usually consist of various stalls selling all kinds of products, including souvenirs. Some markets have become famous and also attract many tourists, such as Xiushui Silk Market and Hongqiao Pearl Market in Beijing, which can make these markets seem touristy. On the other hand, though, these markets offer many diverse products that may be interesting to tourists at more reasonable prices, making these markets good places for souvenir shopping. The staff there can usually speak a little English, but some might be a little pushy.
Counterfeit products can commonly be found at these local markets. Some sellers will tell you when a product is fake, but some may not and may try to sell you a fake at the price of the real thing. From our experience, international brands found in these markets are not likely to be genuine. In addition, it is standard to bargain in these markets, and you may sometimes have to bargain hard to get a good price.
You usually can find a supermarket near your hotel in big Chinese cities. Ask the hotel staff if you are not sure where to find it. Like elsewhere, prices at supermarkets are fair and non-negotiable. All supermarket products are genuine in big cities. Since they mainly sell food and everyday products for local people, however, you may not find many choices when it comes to souvenirs in supermarkets.
If you can allocate some time for shopping during your tour, we suggest you go to the markets since they have most diversified product offerings and prices are fair if you bargain well. If you don't have dedicated time for shopping, we suggest you stop at the tourist shops near the sights you visit during your tour, or go to the supermarket or shops near your hotel after you return from your tour.
Tips for Souvenir Shopping
In China, fake products can be found in markets and some shops. There are also some products with high prices, such as jade and other jewelry, and it may be difficult to judge whether they are genuine and worth the price. So when you are traveling in China, we suggest you avoid buying valuable things, such as high-priced jade products, unless you are very sure about what you are paying for!
China has a long history, and you will also see many shops or vendors selling "antiques." You can buy these products as souvenirs if their prices are good, but do not count on finding genuine antiques and do not pay a high price for them. It is very rare to find genuine antiques in normal markets and shops.
Bargaining is possible at most markets in China. Some sellers may tell you the price is fixed and not negotiable, but it may not be true. If you are not sure, you can just walk away, and the seller may call you back and offer a lower price. If they don't, you can likely find similar products at other stalls. If you cannot find better deals later, you can always go back and offer a higher price.
Different people have different preferences when it comes to souvenirs. Here are some ideas for products that commonly make good souvenirs from China: silk materials (such as a scarf, tablecloth, clothes, bedding, etc.), Chinese tea, ceramics and pottery, jewelry (jade, pearls, etc.), calligraphy, paper lanterns, paper cutouts, Chinese hand fan, opera masks, Chinese knots, etc.
Shopping on Our Tours
A normal part of tourism in China is for travel agencies to take their clients to tourist shops and make money on commissions from their purchases. Some guides also receive a low salary from their travel agency and partly rely on commissions generated by taking their guests to shops and persuading them to buy things. Before you book a tour, some of these travel agencies will specify shopping stops on your itinerary, but some may not.
Although the tour price will be a little lower than tours without shopping stops and sometimes you don't have to buy anything at the shops, in our experience, this ruins the relationship between the guide and the travelers, annoys the travelers, and wastes valuable time. This is why we pay our tour guides and drivers a fair wage and never arrange commission-based shopping stops. If you do want to go shopping, we will take you to non-commission markets or shops where you can shop honestly and bargain for good deals. Depending on which market you choose, our guide will also give you suggestions on how to bargain and shop wisely there.
Useful Phrases when Shopping in China:
How much is this? - 这个多少钱? (zhè gè duō shǎo qián?)
Too expensive - 太贵了 (tài guì le)
Can you lower the price a little? - 便宜点? (pián yí diǎn?)
I want/don't want to buy it - 我要/不要 (wǒ yào/bù yào mǎi)
Do you have anything in a bigger/smaller size? - 有大/小号的吗?(yǒu dà/xiǎo hào de ma?) ■
—
The China Guide is a Beijing-based travel agency that customizes private tours, educational student tours, and incentive trips across China. We have more than ten years of experience crafting tours for tens of thousands of travelers from the United States, Canada, Australia, the United Kingdom, Germany, France, Spain, and beyond. We promise all our tours have no hidden fees, no shopping stops, no touristy restaurants, just memorable experiences! Learn more about us or contact us to start planning your perfect China trip.