Shopping
A normal part of tourism in China is for travel agencies to make money on commissions when their tourists shop. This cannot be done in normal markets; instead, the travel agencies have contracts with tourist markets which record who buys what and pays a 30% or 40% commission to the travel agency, guide, and driver. Often a tour guide is paid no salary and relies solely on commission.
Common commission shopping markets include the Jade market, Cloisonné market, Pearl market, Silk market (there are several silk markets), the Terracotta Warrior factory and other "factories".
In our experience, this ruins the relationship between the guide and the tourists, annoys the tourists, and wastes lots of time. This is why we pay our tour guides a fair wage and never make commission-based shopping stops.
All of that said, China truly is a treasure trove for those who do like to shop. If you do want to go shopping, we will take you to non-commission markets where you can shop honestly, bargain a bit, and get a good deal.
Our recommended shopping stops include:
Panjiayuan Weekend Market: One of the best markets in China, Panjiayuan has Chinese handicrafts from all around the country. A truly authentic experience, the stalls are open mainly on the weekend. It is a great place to pick up souvenirs (although don't bet on finding genuine antiques).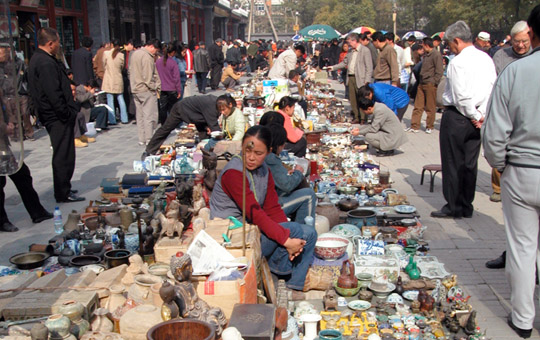 Panjiayuan Weekend Market
Xiushui Silk Market: The Silk Market is a great place to go if you are searching for fake purses, shoes, belts, and other "designer" items. You can also stock up on jackets and silk products. It's open later than the other markets and has many Western dining options nearby. Sales people here can be a bit aggressive but it's a uniquely Chinese experience.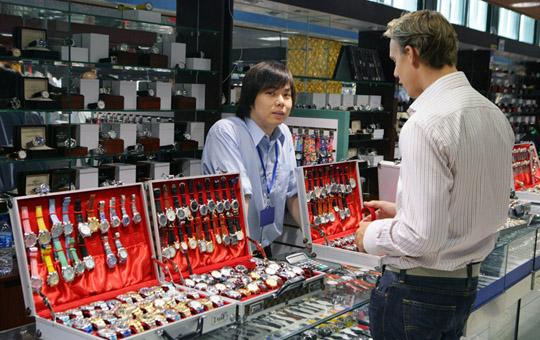 Xiushui Silk Market
Hongqiao Market: Hongqiao Pearl market is one of the largest markets in Beijing. You can find the same kinds of items you would find at the Silk Market but without the hassle of dodging aggressive sales people.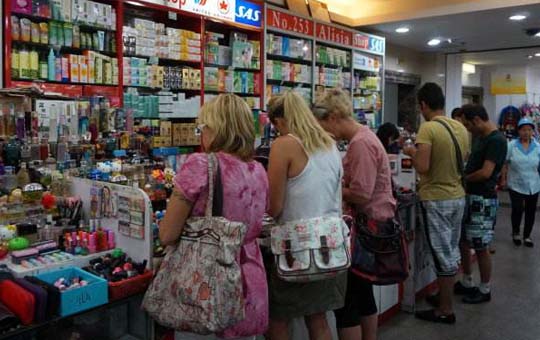 Hongqiao Market