What to Pack for Your Trip to China
Last updated on 2019-08-22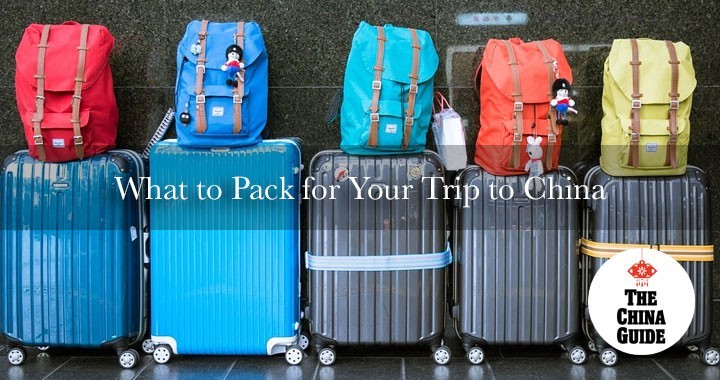 For many international travelers, the thought of traveling in China evokes images of ancient temples, imperial palaces, and delicious food, but as the time of your trip draws nearer, your fanciful imaginings might be starting to take on a more stress-tinged hue. The logistics of a big international trip are hectic, and it can be hard to keep all the moving pieces straight. With airline luggage restrictions getting stricter by the day, determining what to pack can be one of the most difficult parts of the planning process. We're here to help you figure out what to bring along with the following checklist of the items you should pack for your trip to China.
Travel documents
Remember to bring your passport, visa (or verify whether you are qualified for one of China's visa exemption policies), as well as any relevant permits or documents that are required for you to travel in China. We also suggest you save a copy of your important travel documents on your phone and/or take a printed copy of them in case you lose the originals. You can learn more about getting a Chinese visa here.
Be sure to also bring a photo and/or printed copy of your flight itinerary, as well as the tickets and/or booking confirmations for your flights, hotels, activities, etc.
Cash, Credit Card, & Debit Card
Bring cash, at least one credit card for major transactions, and at least one debit card for withdrawing cash from ATMs once you are in China. It is easy to exchange or withdraw Chinese yuan after you arrive in China. Learn more about managing payments while traveling in China here.
Remember to let your bank know that you will be using your card in China; otherwise your transactions in China might be flagged as unusual activity and your card may get blocked.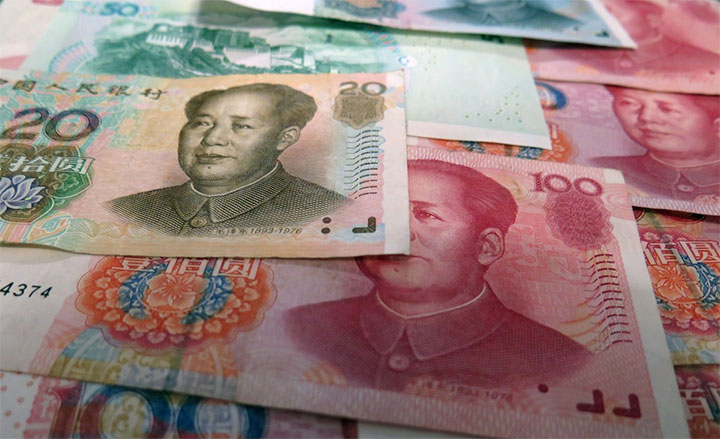 Image from PxHere
Medicine & Travel Insurance
If you suffer from an illness or condition that requires medication, bring the necessary amount of medicine and a copy of your prescription if you have it. We also advise bringing a small medical kit with over-the-counter pills to relieve indigestion, headaches, etc., which can be difficult to acquire in China. We recommend carrying your doctor's contact information if you suffer from any preexisting conditions.
In addition, we strongly advise purchasing a travel insurance plan in your home country. That way, you can be prepared and lessen the burden—both mental and financial—in the unlikely event of an emergency. Learn more about healthcare in China and travel insurance here.
Fully Equipped Phone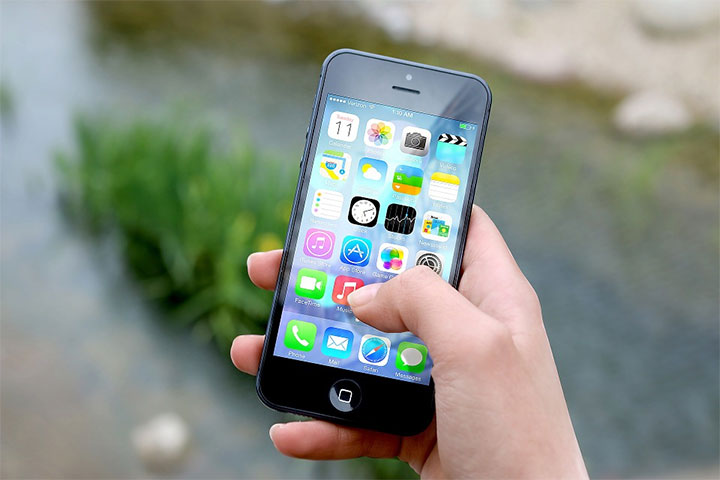 Image from Pixabay
Because many of the websites and applications commonly used by foreigners (e.g., Facebook, Instagram, Google, etc.) are blocked in China, using a smartphone during your travels can be complicated, so you'll want to prepare your device beforehand to ensure that you can continue to use it once you arrive.
If you plan on getting a local SIM card upon arrival, you'll want to be sure that your phone is unlocked. Otherwise, you'll need to purchase a (likely expensive) international plan with your service provider or rely on a WiFi connection during your travels. If you'd like to stay connected and continue using your apps as usual, you'll also need to download a VPN, which will allow you to access all the sites you normally would back home. Read more about how to use your smartphone while traveling in China here.
If you're interested in giving WeChat a try during your travels, you may want to download it and set it up before you arrive. You can read more about this popular app and how to use it here.
Another necessity for any foreign traveler in China is a good, reliable language app, the new, on-the-go version of the phrasebook. Be sure to download at least one translation app on your phone for your trip. There are a host of options; you can read about our favorite language apps here.
We also recommend downloading a maps app to use while in China, although be aware that Google Maps will not work without a VPN. You can learn more about navigation apps that work in China here.
To keep your phone powered when you are out and about, you may bring a portable battery. However, please note that only batteries with a clear label showing their brands and capacity of no more than 20000mAh or 160Wh can be brought onto planes in China.
Outlet Adapter
Chinese power sockets differ in shape from most international sockets, and the most common sockets look like this: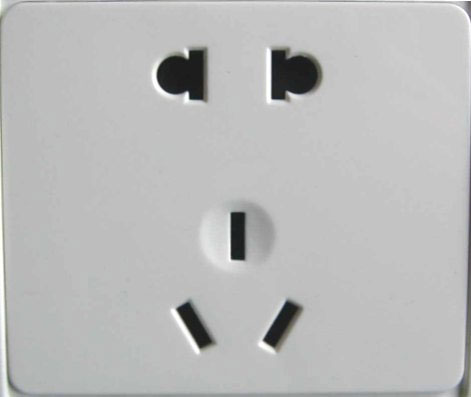 Image from Wikimedia Commons (BPK)
While two-prong plugs with the correct voltage, like a US phone charger, can usually be inserted directly into the two-pronged socket seen above, three-prong or European plugs will require the use of an outlet adapter. Some hotels may have some for loan, and you may also find them in supermarkets or convenience stores upon arrival in China, but it is better to bring an adapter or two with you, depending on the devices you will be using. There are countless outlet adapters available online: simply search for "outlet adapter China" on Amazon or any other online vendor. Most are very affordable.
Aside from plug shape, you will also need to consider the voltage of the electrical devices you will be bringing with you. China uses 220 volt electricity at 50 Hz. This is similar to Europe and Australia but differs from the 110V 60 Hz that is standard in the U.S. and Canada. Fortunately, most modern electrical devices, like laptop and phone chargers, are rated for both 220V and 110V, so if these are the only electrical devices you will be bringing from home, you do not need to use a power converter. For older devices or appliances that are only rated for 110V, you will need to use a travel power converter or transformer to use them in China. Be sure to check the plug of whatever device you are bringing to ensure that it is rated for the appropriate voltage.
In sum, be sure to check the plug shape and voltage of any electronic device you will be bringing and bring along the necessary adapter or converter, as it may be not convenient to find the right thing once in China.
Luggage
International baggage allowances vary, and you must also consider domestic limitations if you are flying between different Chinese cities. For economy class passengers, domestic Chinese airlines usually allow one piece of carry-on luggage that is less than 5kg (about 11 pounds) and does not exceed 20×40×55 centimeters (8×16×22 inches), as well as 20 kg (about 44 pounds) free checked bags in total. Excess luggage will cost you extra fees, although enforcement varies. Different airlines may have different restrictions on the size and weight of your carry-on baggage and check-in luggage, and some budget airlines may not offer free allowance of checked luggage. Be sure to check with your airline(s) to ensure that your luggage meets their requirements.
When taking G/C/D class high-speed trains in China, each adult is allowed to take 20 kg (44 lbs) of carry-on baggage for free, and each child is permitted to take 10 kg (22 lbs). The size (length + width + height) of each carry-on baggage must not exceed 130 cm (51 inches). According to official regulations, any overweight or oversized luggage, or luggage exceeding the free allowance, needs to be consigned to a freight car at a fee. However, railway staff usually do not actually weigh or measure baggage, which means most suitcases can be taken onto the train unless they look extremely large or heavy.
When taking planes or trains in China, prohibited items generally include bicycles, animals, explosives, compressed gases, flammable liquids, or other dangerous items such as knives or other sharp objects. Your luggage will need to pass through an X-ray machine when entering the airport or train station.
Learn more about traveling by train in China here.
The Right Clothing
Knowing what kind of clothing to pack for a trip to China can be challenging, particularly if you're traveling to different areas with varying climates. In general, we recommend bringing light, comfortable, quick-drying clothes, especially if you will be traveling during the warmer months. If you will be visiting a rain-heavy place, like Chengdu, be sure to bring a raincoat or poncho. Because umbrellas are bulky and can easily be acquired upon arrival, it's not necessary to pack one. If traveling in autumn or early spring, we recommend also packing a light jacket. A hat, heavy coat, and gloves are a necessity in winter.
No matter what season you travel, packing clothes that can be layered is important, as temperatures might vary throughout the day. We recommend bringing sunglasses and a brimmed hat to help protect you from the sun, as you'll likely be spending lots of time outdoors during your trip. Perhaps most importantly, be sure to bring comfortable shoes, as many of China's attractions are large and require quite a bit of walking to explore fully.
The Right Toiletries
While Chinese bathrooms have come a long way in recent years, most public bathrooms are equipped with squat toilets, with or without barriers in between, which can be an adjustment for foreign travelers. On top of that, most public restrooms are lacking in the amenities that many foreigners are used to, including toilet paper and hand soap. While some items can easily be purchased upon arrival, we recommend bringing some travel-size hand sanitizer and a few packets of tissue or toilet paper to ensure that you have what you need right away when you land.
Female travelers should also be aware that tampons are a rarity in China (sanitary napkins are the more popular choice), so be sure to bring the necessary supplies. Deodorant is also uncommon in China. Be sure to bring your own, as you won't be able to count on finding it once you arrive.
We recommend bringing sunscreen of at least SPF 30, even if traveling in winter. This is particularly critical in high-altitude areas like Yunnan and Tibet, where the atmosphere is thinner and offers less protection from harmful UV rays.
Remember not to pack any liquid products that are over 3.4oz (100ml) in your carry-on bag, as they are banned on most flights. Liquids under this size can be stored in a ziploc plastic bag in your carry-on.
Face Mask
Although improving, smog is still a reality for many major Chinese cities, especially in winter. While most travelers will not suffer any serious or lasting health effects from a smoggy day or two during their trip, more sensitive populations (such as the elderly, small children, or those with asthma) should take this into consideration when planning a trip. It is a good idea for sensitive travelers to bring a face mask to protect them from any potentially harmful effects in case of particularly heavy smog.
While masks are available in China, it's safer to purchase a mask in your home country and bring it with you just in case. There are lots of options, both disposable and reusable. For a short-term trip, a disposable mask is the most affordable option. 3M is commonly recognized as the best manufacturer of disposable face masks; their N95 and N99 masks are a popular and reliable choice. You can read more about the best available masks here.
You can check the current and forecasted air quality in Beijing and other cities around China here.
Camera
The most important thing you'll be leaving China with are your memories of your trip, and there's no better way to keep those memories alive than by physically capturing them. With its magnificent architecture and scenic landscapes, China is incredibly photogenic, and you'll want to have a camera with you at every step of your trip. Whether it's your phone's built-in camera or a separate digital camera, be sure to have some method of recording your journey so that you can carry your memories with you long after you return home.
With the contents of your suitcase sorted, you can focus on the more important things, like making amazing memories during your China journey! ■
—
The China Guide is a Beijing-based travel agency that customizes private tours, educational student tours, and incentive trips across China. We have more than ten years of experience crafting tours for tens of thousands of travelers from the United States, Canada, Australia, the United Kingdom, Germany, France, Spain, and beyond. We promise all our tours have no hidden fees, no shopping stops, no touristy restaurants, just memorable experiences! Learn more about us or contact us to start planning your perfect China trip.