The Best Restaurants in Beijing to Try Regional Chinese Cuisine May 16, 2017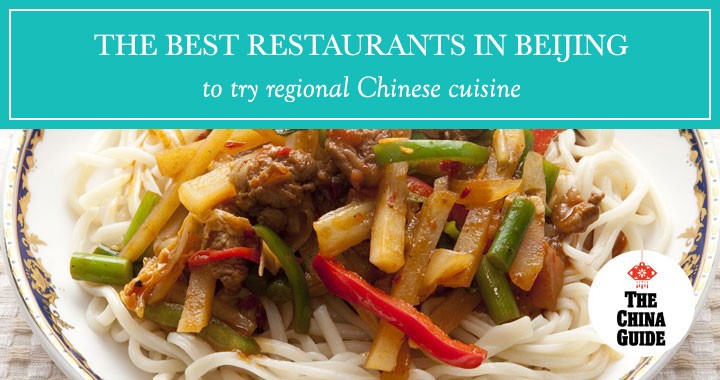 We're keen foodies here at The China Guide, so it's no surprise that we have already dedicated time on the blog to China's fascinating and diverse regional cuisines, in particular the so-called "eight great cuisines." However, you don't need to spend weeks traveling all over China to get a taste of these widespread cuisines; if you're staying in one of China's biggest cities, such as Shanghai or Beijing, you come across restaurants serving all sorts of regional delicacies.
Here, we have listed a few of our favorite regional Chinese restaurants in our home city of Beijing.
The cuisine of the far northwestern province of Xinjiang largely reflects the cooking style of the Uyghur people. Dishes heavily feature lamb and mutton, vegetables such as bell peppers, onions, and tomatoes, hand-pulled noodles, and rice. Due to the predominantly Muslim population, dishes are usual halal. Sample the cuisine of this region at Crescent Moon, a small, clean restaurant in the hutongs near Zhangzizhong Lu and Dongsi. Don't miss the grilled lamb kebabs. Menu has pictures and English translations but staff do not speak English.
Nearest subway station: Zhangzizhong Lu
The food of Yunnan province is not well known outside of China and we can't help but feel like this is a crying shame. Yunnan is home to a number of ethnic minority groups, each of whom have contributed to the region's cuisine, so it is hard to describe the food of the province in one sentence but in general Yunnan dishes are slightly spicy, often feature wild mushrooms, and make frequent use of herbs such as lemongrass, mint, and even tea leaves. In & Out (not to be confused with the Californian burger chain) is a Lijiang-themed restaurant with a menu of specialties from the cuisines of the Naxi, Bai, and Wa minorities, among others. Don't miss the fried goat's cheese (it reminds us of Halloumi cheese!), a unique dish of the Yunnan region.
Nearest subway station: Dongsishitiao
8 Qi Nian, Cantonese Cuisine
Probably the most well-known type of Chinese cuisine outside of China, many consider Cantonese cuisine to be the height of Chinese culinary sophistication and Cantonese chefs are thus highly sought after for their ability to use delicate, high-quality ingredients and light cooking methods. New World Beijing Hotel's Chinese restaurant 8 Qi Nian offers fantastic Cantonese food, including steamed seafood and tasty dim sum, in a sophisticated atmosphere and at very reasonable prices.
Nearest subway station: Chongwenmen
Chuan Ban (Sichuan Provincial Government Representative Office Restaurant), Sichuan Cuisine
Sichuan cuisine is characterized by pungent, spicy flavors. Key ingredients include chilli, garlic, mouth numbing Sichuan pepper, and doubanjiang (a paste made from broad beans and chillies), which combine to add complex layers of flavors to dishes. Popular dishes include kungpao chicken, dandan noodles, and pock-marked old woman's beancurd (mapo tofu). Sample these dishes and more at the Sichuan Provincial Government's official restaurant, more commonly known as Chuan Ban, which has been a favorite of the Beijing restaurant scene for years.
Nearest subway station: Jianguomen
With its spicy heat, smoky flavors and frequent use of pickles, Hunan cuisine is one of the boldest of the eight great cuisines and is almost as popular as Sichuan cuisine, to which it is often compared. Hunan cuisine is actually much spicier thanks to its liberally use of both fresh and pickled chillies. Set in the up and coming Dashilar area southwest of Qianmen, The Southern Fish serves up authentic Hunan cuisine in a strikingly modern, minimalist setting that somehow serves to enhance the vibrancy of the food.
Nearest subway station: Qianmen

---
Image: Wikimedia