The Great Wall of China is an essential stop on any trip to China. The Great Wall stretches across several provinces of northern China but Beijing is usually considered the main gateway to the Great Wall since there are several world famous sections of the Great Wall in the suburbs of Beijing, including Badaling Great Wall, Mutianyu Great Wall, Jinshanling Great Wall, Simatai Great Wall, Gubeikou Great Wall and Jiankou Great Wall. These sections were built during the Ming dynasty between the 14th and 17th centuries and have been well preserved.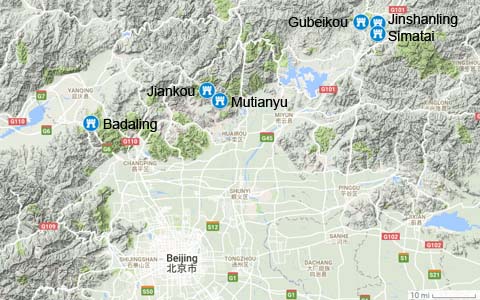 Map of the Great Wall of China
Badaling Great Wall
Of all the sections of the Great Wall near Beijing, Badaling is most famous and closest to downtown. As a result, Badaling is the destination of choice for many large tour groups and is often incredibly crowded. We never recommend that our clients visit Badaling Great Wall.
Mutianyu Great Wall
The Great Wall at Mutianyu, which is about 70 km or one and a half hour drive in normal traffic from downtown, is just as close as Badaling but offers a much preferable experience. Mutianyu offers wonderful Great Wall views with much fewer tourists and makes a great choice for a half-day trip. You can even take the thrilling Mutianyu toboggan ride down the side of the Wall on the way back down! We usually combine Mutianyu Great Wall with a trip to the Ming Tombs to make a perfect Great Wall Mutianyu and the Ming Tombs one-day tour.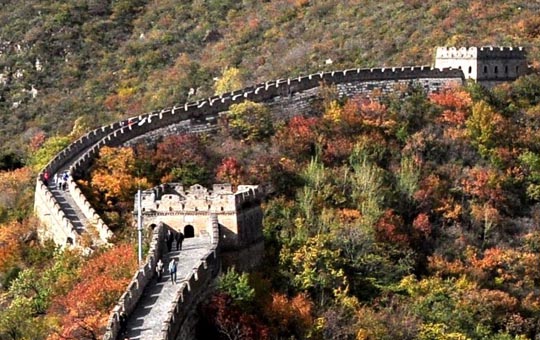 Mutianyu Great Wall
Jinshanling Great Wall
The Great Wall at Jinshanling, located on the border between Beijing and Hebei Province, is about 150 km northeast of downtown. It usually takes about two and a half hours to drive there. Despite the longer drive, Jinshanling is among the most stunning sections of the Great Wall. We recommend visitors allow a whole day to visit Jinshanling. Another popular option is to sleep on the Great Wall or in the village nearby, and then climb the Great Wall early the next day to see the breathtaking sunrise. Camping on the Great Wall will give you the chance to experience the life of the soldiers who patrolled the Wall hundreds of years ago.
Virtual Tour of the Great Wall of China
Important Notice:
Jinshanling Great Wall will close starting from June 1, 2017. The reopening date has yet to be disclosed. learn more
Gubeikou Great Wall
The Great Wall at Gubeikou, located about 130 kilometers northeast of downtown Beijing, is divided into two parts: Wohushan Great Wall and Panlongshan Great Wall. Neither section has been restored since it was first built in the Ming Dynasty, making Gubeikou a great choice for those who enjoy hiking and want to experience the wild Great Wall.
Jiankou and Simatai Great Wall
The Jiankou and Simatai sections are both famous for their steep climbs. If you are visiting these two sections, be prepared for a serious hike - you may even need to climb on your hands and knees!
Other Sections of the Great Wall
There are also some famous sections of the Great Wall outside Beijing, such as Shanhaiguan Great Wall in the city of Qinhuangdao, which marks the most easterly starting point of the Great Wall.
Great Wall Hiking and Camping
There are several fantastic Great Wall hiking routes on the outskirts of Beijing. You can do a half-day hike from Jinshanling to Jinshanling East which doesn't require too much effort but still affords panoramic views of the Great Wall as it stretches out across the mountains. You can also spend a whole day hiking from Gubeikou to Jinshanling, which will take you past older, unrestored sections of the Wall, along with lofty watchtowers. Be sure to wear comfortable shoes and pay attention to loose stones!
Camping on some sections of the Great Wall is banned. If you want to spend a night camping on the Great Wall, we will take you to a watchtower at Gubeikou Great Wall to experience the life of an ancient soldier.

If you are interested in Great Wall hiking or camping, please refer our Great Wall hiking and camping tours.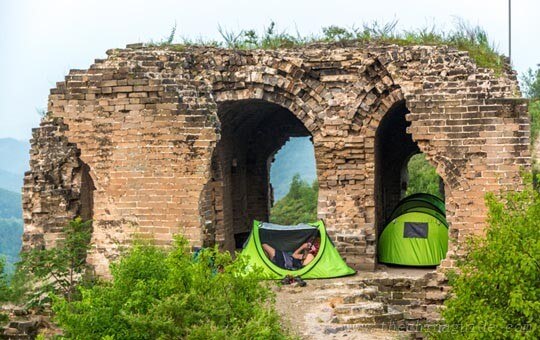 Sleep on the Great Wall of China
When to Visit
October and November are the best times to visit the Great Wall, since at that time the leaves are turning color, making for some incredible photo opportunities. The weather in April and May is temperate making it a great time to visit. July and August are generally too hot for hiking. Winter in Beijing is very cold but a visit to the Great Wall after it snows is a magical experience.
Travel Notices
Sections of the Great Wall are subject to close due to construction projects and local government's policies. Please always contact our agents for the latest travel information and advice.