Cash and Credit Cards
It's unlikely you will have problems with money while traveling around China — apart from spending too much on souvenirs, that is!
China is still a largely cash-based society, especially in smaller cities and away from tourist areas. You can exchange your home currency for Renminbi, the official name for the local currency, before you leave or, alternatively, take out cash from one of the many 24-hour ATMs. We don't really recommend exchanging money at the bank in China, as you will be in for a lengthy wait.
Getting Cash in China - Cash Machines

An alternative to exchanging money is to use a debit card to take money out of an ATM or cash machine. Not every card works at every machine, so it's best to stick with major banks such as Bank of China, HSBC, ICBC, or China Construction Bank.
This may prove to be the easiest and most convenient way to get foreign currency in China. 24-hour ATMs are common in all big cities and most smaller towns. The only areas that will not have many ATMs are Tibet and very rural areas. For example, Yangshuo has plenty of banks and ATMs, whereas there will be no places to get cash in the villages around the Longsheng Rice Terraces.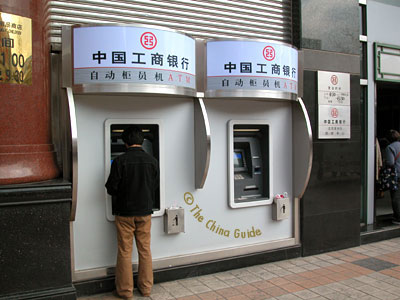 Getting Cash on Arrival
It is easy and quick to get cash on arrival at any Chinese international airport. There are cash machines in the baggage areas and after exiting customs at both the arrival and departure levels. There are also specific counters where travelers checks can be exchanged.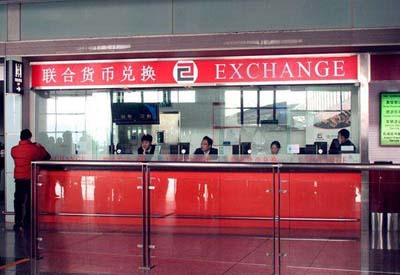 Using Foreign Credit Card in China
More and more places in China, including hotels, upscale restaurants, and foreign brand name stores, accept cards, so it's still worth bringing your credit card with you.
Using foreign credit cards in China will seemingly always incur a foreign currency exchange fee from the issuing bank which can be expensive and add up fast, but it is easier to use them for big payments, like hotels, tours and major shopping. The best thing to do is to exchange some money before arriving in China, bring at least one credit card, and prepare to exchange more money upon arrival.
Mobile Payment in China
China has also wholeheartedly jumped on the mobile payment bandwagon and you will see QR codes for mobile payment at even the smallest of stores. The most popular mobile payment methods are provided by local companies like WeChat and Alipay. Some international chains such as Starbucks and KFC also accept Apple Pay.