Chinese Visas
China usually issues three types of tourist visa: Single Entry (valid for 3-6 months), Double Entry (valid for 6 months), Multiple Entry (valid for 6 or 12 months).
Single-entry tourist visas usually grant a maximum stay of 30 days but you may be able to ask for up to 90 days. How many days you will get partly depends on the passport you hold.
US citizens are eligible for a 10-year multiple entry visa with a maximum stay of 60 days per entry. In order for US citizens to be eligible for the ten-year visa, US passport holders must have more than one-year validity remaining on their passports. If their passports have one year or less remaining validity (more than 6 months), they will receive a China visa with less than one-year validity.
China tourist visas can normally be extended no more than two times within China.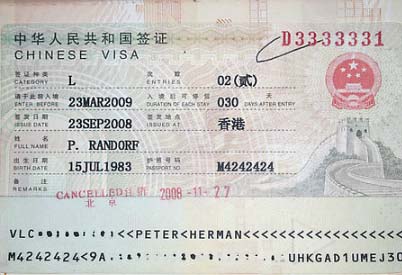 When and how to Apply for a Tourist Visa
The single-entry tourist visa normally has a validity period of three months so it's best to apply for a China tourist visa 30 to 60 days before your intended date of entry. If you apply too far in advance, the visa may expire.
Unless you are traveling as part of a group, you will need to arrange your own visa. You normally need one photograph, a completed application form for each person, and a bank check or credit card. Fedex or another courier can handle the transfer and return. Search on the internet for the Chinese embassy or consulate nearest to you. You can also apply for Chinese visas outside of your home country, just make sure that you fulfill the application requirements.
Some countries have visa agents but this adds substantially to the cost. If you can go straight to the embassy/consulate it will be cheaper.
Visa applications are normally processed within three to four working days but you can choose to pay an extra amount to rush it. If you go to the visa office you may be able to get a visa on the same day for a fee.
When applying for China tourist visas, the procedures, requirements, issue time, and fee may vary from country to country. Details and application forms can be found on the website of the Chinese embassy in your country.
Make sure your passport is valid for at least six months at the time of arrival in China.
Visa-free Entry into Mainland China
No visa is required for ordinary passport holders from the following countries:
90 days: San Marino
30 days: Bahamas; Ecuador; Fiji; Grenada; Mauritius; Serbia; Seychelles; Tonga; Barbados (June 1st, 2017)
15 days: Brunei; Japan; Singapore

The Chinese Government may change their visa-free policies from time to time. When you are planning a trip to China, please check the latest information with the Chinese embassy for your country.
24-hour visa-free entry
International flight, ship and/or train passengers transiting directly through Mainland China can stay in the country for less than 24 hours.
Passengers from most countries can enjoy this program, as long as they are in possession of a confirmed ticket to a third country. Travelers who are transferring in more than one city in China for a total of fewer than 24 hours can apply for a Temporary Stay Permit.
However, not all ports of entry qualify for this program. Airports in Shenzhen, Yanji, Mudanjiang, and Fuzhou don't offer 24-hour visa-free entry.
72-hour visa-free entry
Travelers passing through Beijing Capital Airport, Shanghai Pudong and Hongqiao Airports, Guangzhou, Chengdu, Chongqing, Shenyang, Dalian, Harbin, Xian, Guilin, Kunming, Hangzhou, Wuhan, Tianjin, Qingdao, Nanjing, Changsha, and Xiamen for less than 72 hours may be eligible for visa-free entry (check below if your nationality is on the list). If you are in possession of a valid third country visa and confirmed onward plane ticket, you may apply for a transit without visa permit (TWOV) at the port of entry.
This will allow you to enter China without a visa for up to 72 hours. Your 72 hours will be counted from the moment you receive your TWOV permit at the Exit and Entry Administration desk at each of the aforementioned airports.
This 72-hour permit only allows you to remain in the city you entered through (for example, if you fly into Shanghai Pudong or Shanghai Hongqiao International Airport, you are not allowed to leave the city of Shanghai).
Below is a list of countries eligible for the 72-hour visa-free transit program:
Schengen Agreement countries: Austria, Belgium, Czech Republic, Denmark, Estonia, Finland, France, Germany, Greece, Hungary, Iceland, Italy, Latvia, Lithuania, Luxembourg, Malta, Netherlands, Poland, Portugal, Slovakia, Slovenia, Spain, Sweden, and Switzerland
Other European countries: Russia, the United Kingdom, Ireland, Cyprus, Bulgaria, Romania, Ukraine, Serbia, Croatia, Bosnia-Herzegovina, Montenegro, Macedonia (FYROM), Albania, Belarus, and Monaco
The Americas: Canada, United States, Mexico, Brazil, Argentina, and Chile.
Asia: Korea, Japan, Singapore, Brunei, United Arab Emirates, and Qatar.
Oceania: Australia and New Zealand
Six-day (144-hour) visa-free entry
China has initiated a six-day (144-hour) visa-free entry policy in the Shanghai-Jiangsu-Zhejiang region and the Beijing-Tianjin-Hebei region. The list of countries eligible for six-day visa-free entry is the same as for the 72-hour visa-free entry (see above).
Below is a list of points of entry where visitors can apply for six-day visa-free entry in the Shanghai-Jiangsu-Zhejiang region:
All airports, sea ports, and railway stations in Shanghai, including Pudong and Hongqiao Airports, and Shanghai Port International Cruise Terminal
Hangzhou Xiaoshan Airport
Nanjing Lukou Airport
Visitors can enter and leave from a combination of any of the above ports e.g. landing at Pudong Airport and leaving from Nanjing Lukou Airport, and travel freely throughout the region.
Below is a list of points of entry where visitors can apply for six-day visa-free entry in the Beijing-Tianjin-Hebei region:
Beijing Capital International Airport
Beijing West Railway Station
Tianjin Binhai International Airport
Tianjin International Cruise Port
Shijiazhuang Zhengding International Airport
Qinhuangdao Port
Visitors can enter and leave from a combination of any of the above ports e.g. arriving at Tianjin International Cruise Port and taking off from Beijing Capital International Airport, and travel freely throughout the region.
Passengers who would like to take advantage of the six-day visa-free program should proceed to the relevant counter at their point of arrival and present the following: a valid passport; an onward ticket with a confirmed seat and date and a valid visa to a third country (e.g. you can't fly NY-Beijing-NY). Note that Hong Kong, Taiwan, and Macau count as third regions.
The 144-hour period starts from 00:00 of the day following your arrival; that means a few extra hours to spend in China!
Please double check the requirements for these visa exemption programs before you travel to China, as laws can change.
Travel to Tibet
The requirements to visit Tibet are very different from the ones to visit other provinces in China. All travelers to Tibet must arrange their trip in advance with an agency. This is the rule and there are no exceptions. Tibetan authorities issue a Tibet Travel Permit only after a traveler has secured a China visa. Depending on the places you would like to see in Tibet, you may need further documents such as a Military Permit and Alien Travel Permit. Contact us for the most up-to-date information on how to travel to Tibet.
Travel to Hainan
Travelers of the following countries can visit Hainan province for 15 days without a visa, as long as they travel in a group of more than 5 people, and an international travel agency in Hainan organize their trip:
Australia, Austria, Canada, Denmark, France, Finland, Germany, Indonesia, Italy, Japan, Kazakhstan, Malaysia, Netherlands, New Zealand, Norway, Philippines, Russia, South Korea, Spain, Sweden, Switzerland, Singapore, Thailand, United Kingdom, United States & Ukraine.
Citizens of South Korea, Germany, and Russia, can extend their stay up to 21 days if they join an international tourist group of two or more members.
Cruises to Shanghai
Travelers who arrive in Shanghai and depart the city aboard a cruise can stay in China for 15 days visa-free. The only condition is that they must be part of a tour group of two or more members organized by a local travel agency.
Passengers arriving into Shanghai on a cruise should book their tours with enough time for us to process their 15-day visa-free visit.
Passengers must arrive in Shanghai first and then they can use their visa to visit Tianjin.