Visas
Chinese visa
Everyone traveling to China for more than three days needs to obtain a visa prior to arrival. Normally a tourist visa is for a 30 day stay but you may be able to ask for up to 90 days. You can normally get your visa extended while in China so if you think you don't have enough time don't worry too much.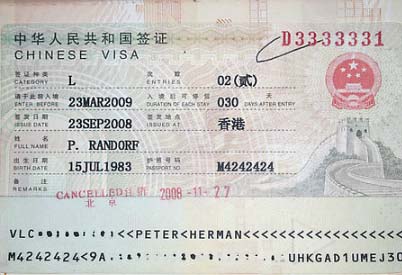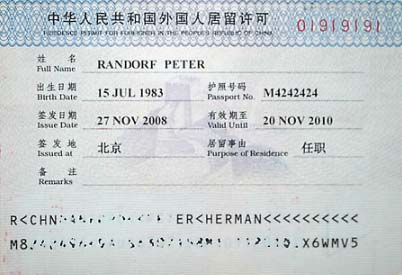 Unless you are traveling as part of a group, you will normally need to arrange your own visa. Search on the internet for the Chinese embassy or consulate nearest to you. Some countries have visa agents but this adds substantially to the cost. If you can go straight to the embassy/consulate it will be cheapest.
Apply for your tourist visa 30 to 60 days before departure. If you apply too far in advance the visa will expire as it has an "enter by" date. Details and application forms can be found on the web site of the Chinese embassy for your country. Visas are normally processed in three to four working days but you can pay extra to rush it. If you go to the visa office you may be able to get a visa on the same day for a fee.
You normally need one photograph, a filled in form for each person, and a bank check or credit card. Fedex or other courier can handle the transfer and return.
Application fees vary from country to country.
Visas are generally easy to obtain in Hong Kong and other Asian capitals in one to three days, so if you are traveling this is an option. Make sure to show up at the right time to apply (usually before lunch), with cash and be ready to wait in line (bring a newspaper or book!).
Make sure your passport is valid for at least six months after your arrival in china.

72-hour visa-free entry
Travelers passing through Beijing, Shanghai, Guangzhou, and 15 other Chinese cities for under 72 hours may be eligible for visa-free entry (check before you travel as this policy does not apply to all nationalities). If you are in possession of a valid third country visa and confirmed onward plane ticket, you may apply for a transit without visa permit (TWOV) at Beijing Capital International airport (PEK), Shanghai Pudong International Airport (PVG) and Shanghai Hongqiao International Airport (SHA).
This will allow you to enter China without a visa for up to 72 hours. Your 72 hours will be counted from the moment you receive your TWOV permit at the Exit and Entry Administration desk at each of the above mentioned airports.
This 72-hour permit will allow you to remain in the city you entered through only (for example, if you fly into Shanghai Pudong or Shanghai Hongqiao International Aiport, you are not allowed to leave the city of Shanghai).

Travel to Tibet
Note that travel to Tibet requires a separate permit, which can take up to two weeks to process. Contact us for the most up-to-date information about traveling to Tibet.