China's Major Airports
Beijing International Capital Airport
Beijing's Terminal 3 was built in conjunction with the 2008 Olympic games. Most of the international flights in and out of Beijing go through Terminal 3, although be aware that there is also a Terminal 1 and Terminal 2. Terminal 3 has rows of restaurants upstairs before you go through immigration and there are also some restaurants on the other side of security.
You normally need to arrive at the airport two hours before an international flight. Note that the lines for immigration and security can be long at peak travel times and around national holidays such as Chinese New Year, so you may want to arrive a little earlier.
There is free internet available at the airport, but you must get a login and password from a vending machine or information desk (they will scan your passport).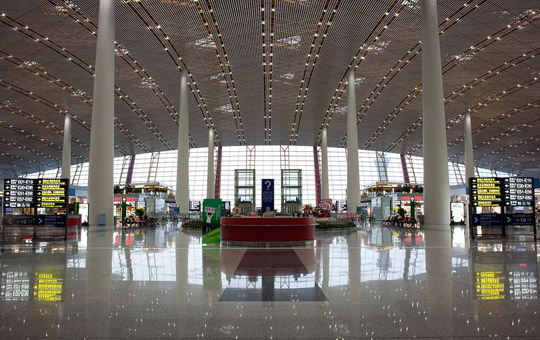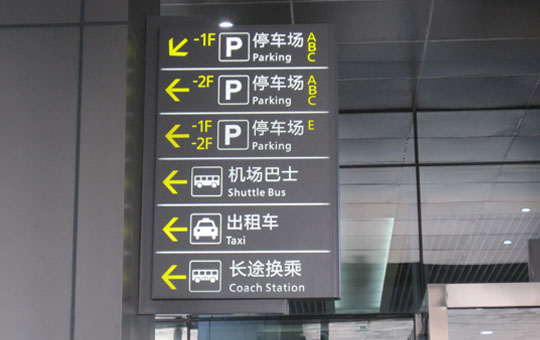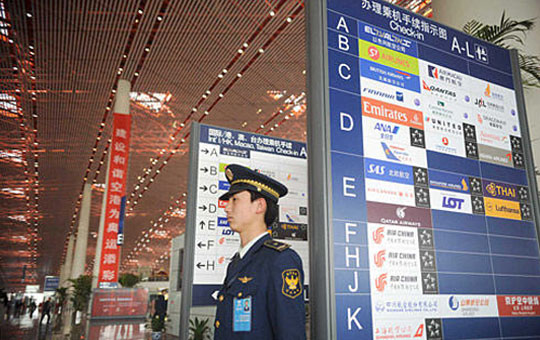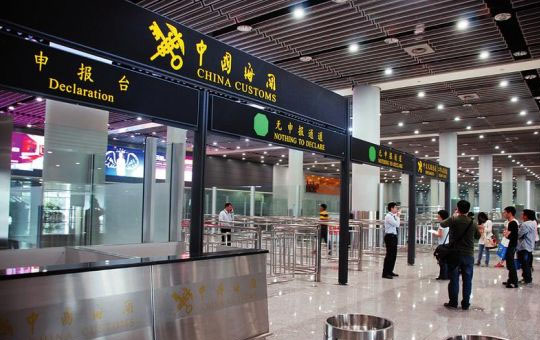 Beijing Airport Express Train
Beijing's Airport Express train service opened in July 2008 in conjunction with the Olympic games and the opening of Terminal 3. It connects to the subway at Dongzhimen and Sanyuanqiao stations. It is convenient if you do not have a lot of luggage. If you do have a lot of luggage, you might prefer to book a car or take a taxi. The major advantage of the Airport Express is that it avoids the traffic jams which are common on Beijing's main airport highway. The train operates from about 6:30am to 10:30pm. When it is closed in the evening the line for taxis often gets quite long. For this reason it may be advisable to book a driver and guide to pick you up, as it is not uncommon to wait up to two hours for a taxi.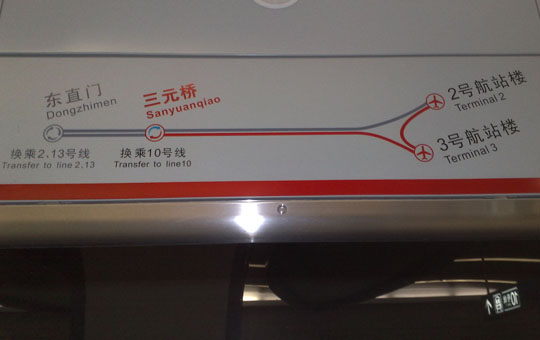 Shanghai Pudong International Airport
Pudong Airport (PGV) is the newer of Shanghai's two commercial airports and handles international flights from overseas. The other airport in Shanghai is the Hongqiao Domestic Airport. Pudong International Airport is located 30km east of the center of Shanghai. It can be reached by road, subway, and Maglev train. The Maglev train is quite interesting, being the fastest commercial train in the world.
The airport has reasonably good restaurants, cafes and shops once you are through security. You can also easily purchase bottled drinks.
When you are flying out of Shanghai be sure to confirm which airport and terminal number you are departing from. Some domestic flights do go through Pudong, but most go through Hongqiao.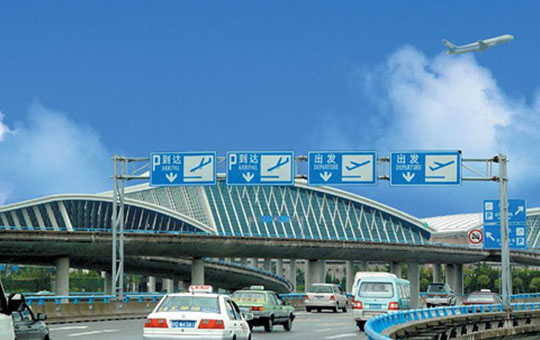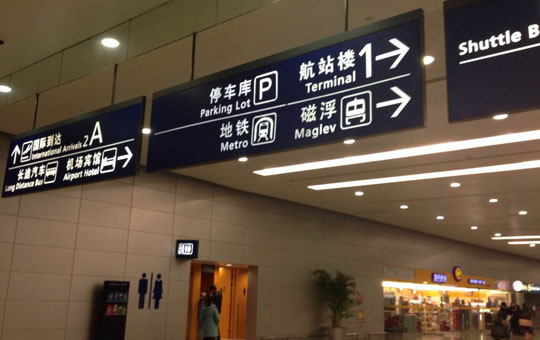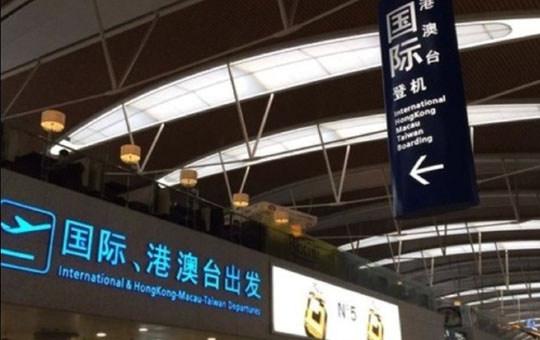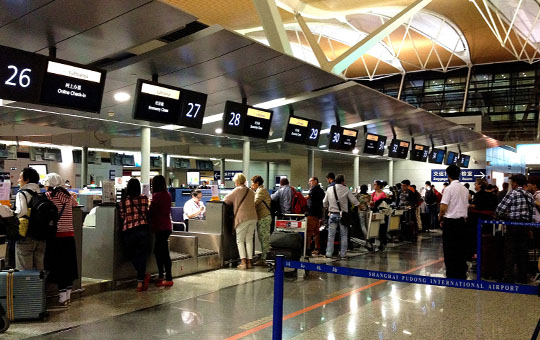 Shanghai Pudong Maglev Airport Express Train
The Shanghai Maglev Train is a magnetic levitation train that is the first commercially operated high-speed magnetic levitation line in the world. The train line connects Shanghai Pudong International Airport to Shanghai city center. Constructed between 2001 and 2004, its top operational speed is 431 km/h (268 mph), making it the world's fastest train in regular commercial service, faster than the TGV in France and also faster than the latest CRH conventional wheel train in China at 350 km/h (217 mph).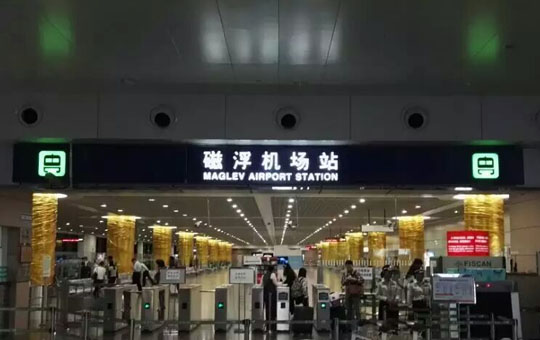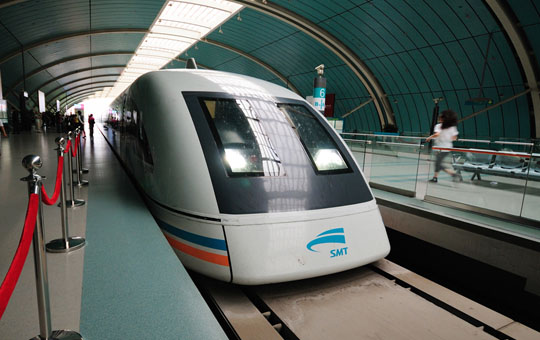 Shanghai Hongqiao Airport
The Shanghai Hongqiao airport (SHA) is considered an international airport since it does have flights to Japan, Korea and Taiwan but mainly operates domestic flights with China. It was Shanghai's major airport until the Pudong airport opened in 1999. Much smaller and older then Pudong, it is easy to navigate and is closer to the city center being 8 miles (13km) from downtown Shanghai. It is quite far away from the Pudong airport. From the Hongqiao airport it is possible to take the subway or a taxi to the city. There is a queue for metered taxis, do not get involved with a private driver, you are certain to be cheated. If you are on a tour we recommend you have your guide and driver pick you up.
The Hongqiao airport originally opened in 1907 for military flights, and came into use for civilians in 1923. It was occupied by the Japanese air force during World War II. The runways and terminals received an upgrade before the world expo in Shanghai in 2010.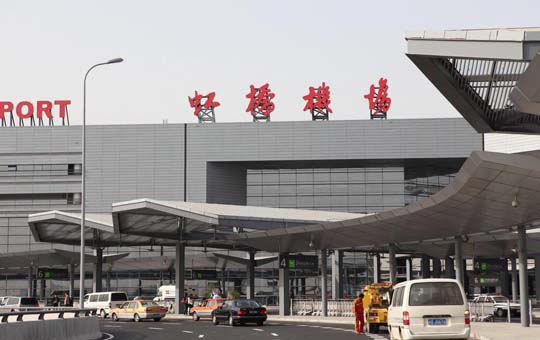 Hong Kong International Airport
Hong Kong International Airport (HKG) is also known as Chek Lap Kok Airport. Opened in 1998, it replaced Kai Tak airport (originally built in 1925), which was located much more centrally and was famous for its breathtaking landings over buildings and in between mountains. The new airport is out on the island of Lantau and borders the ocean, giving planes much more room to maneuver. Hong Kong International Airport is one of Asia's major hubs with services to most countries in the region. It is a hub for several major airlines. A modern and well run airport, it has excellent dining, shopping, and internet facilities.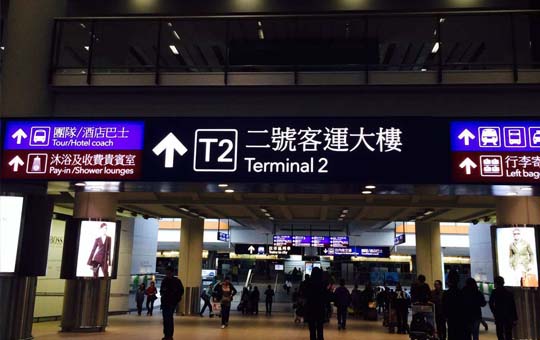 Hong Kong Airport Express Train
Take advantage of the in-town check-in counters which work in conjunction with Hong Kong's Airport Express train. You can drop off your bags and get your boarding pass at Hong Kong Central station or Kowloon station. This way you can check in hours in advance and have more time to tour, shop or have a meal before heading to the airport. The service connects with the rest of the Hong Kong subway, bus, and taxi system.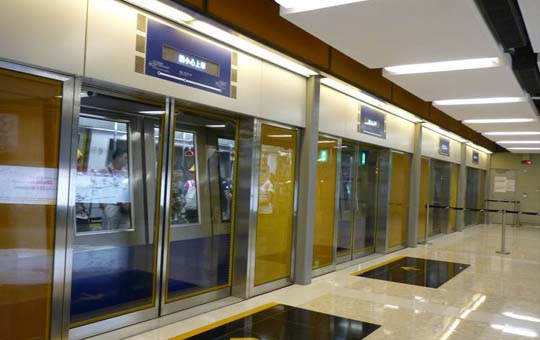 Xi'an Xianyang International Airport
Xi'an Xianyang International Airport (XIY) is the hub through which visitors to the Terracotta Warriors will fly. It was opened in 1991.
If traveling between Beijing and Xi'an, then a good alternative to flying is the overnight train, which runs on time, is cheaper, and saves on a night of accommodation. It leaves in the evening after dinner and arrives in the morning before breakfast.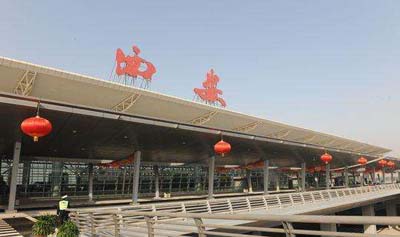 Guilin Liangjiang International Airport
Guilin is one of the major gateways to south China. Many visitors will arrive at Guilin airport (KWL) and go straight to Yangshuo, about one and half hours away, without visiting Guilin. Guilin airport is not huge but it is modern and well equipped. There are direct services to Guilin from Hong Kong, Beijing, Shanghai, and Xi'an. Guilin airport was used by the United States military from 1942 to 1945, attacking Japanese targets and supporting Chinese troops.


Hangzhou Xiaoshan International Airport
Hangzhou Xiaoshan International Airport (HGH) is 27 km east of downtown Hangzhou. It is a new and modern airport, put into operation in the year 2000. Famously, there is speculation of a UFO arriving at the airport on July 9, 2010, which shut down the airport for some hours and garnered international attention. Unfortunately the aliens did not take a tour with The China Guide. If they had perhaps they would have stayed longer.