Electricity
China runs on 220 volts with a variety of plug types. Most common are the two pronged straight plug (U.S. style) and three pronged angled (Australian style).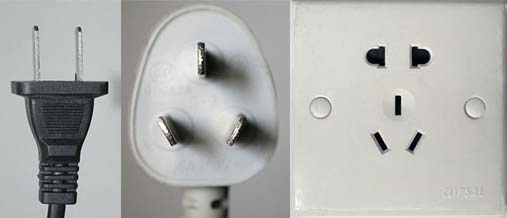 Most consumer electronics are rated at 100 to 220 volts. Generally cameras, phones and computers may need an adapter to fit in the plug but not a power converter.
If you have 3 prong USA style plugs you will need an adapter. You can pick up a cheap power strip in China which accepts most any plug in the world. You can also ask your hotel on arrival, many will have these on hand.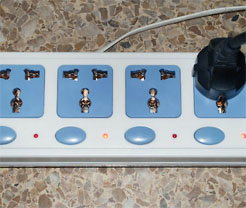 If your appliance is not rated for 220 volts, such as a hair dryer using 110 volts, do not plug it in or you will ruin it! Most hotels have hair dryers or will loan you one.
Adapters and Converters
Make sure you understand the difference between a plug adapter and a power converter. If your plug is not the right shape but rated for 110 to 220 volts, you just need an adapter to get your plug to physically fit in the wall. If your appliance is rated for 110 volts only and you want to plug it in, you will need a power converter which gives you the right voltage and amperage for your appliance.