Southern China is renowned for its beautiful, mountainous landscapes, winding rivers, and cultural richness, and many visitors to this part of the country head toward Guilin. However, it's also worth checking out Guilin's smaller, more relaxed cousin, Yangshuo, which boasts the same stunning karst scenery, with a multitude of activities that are great for intrepid explorers.
Location and How to Get There
Being a small county within the jurisdiction of Guilin City, Yangshuo does not have its own airport. The closest airport is Guilin Liangjiang International Airport, with daily flights from Beijing, Shanghai, and Shenzhen. You can fly into the Guilin airport and take a shuttle bus from there to Yangshuo for 60 RMB. There are multiple shuttle buses a day and you can purchase tickets at baggage claim in the airport. The nearest train station to Yangshuo, Xingping, is more than 20 km from the town center, so this is probably not the most convenient way to get there, although you can take a local bus from the train station into town. You could also take a taxi from Guilin to Yangshuo, although this might be rather costly. The drive from Guilin to Yangshuo takes a little over an hour.
Alternatively, most visitors opt to take the four- to five-hour Li river cruise from Guilin to Yangshuo after finishing their visit in Guilin. This route allows you to sit back and enjoy the stunning scenery at a leisurely pace.
Tourist Map of Yangshuo
Things to Do and Travel Advice
Just down the river from Guilin, Yangshuo is a highlight of any China tour. A small but lively town, people come for the breathtaking karst landscape and stay for the wealth of outdoor and cultural activities.
Virtual Tour of Yangshuo
Cycling is the most convenient way to explore the small town and its surrounding scenic areas. Whether you're interested in exploring the beautiful countryside or wandering around town, bikes are available for rent all over with a range of prices and equipment to suit everyone's needs. For the less physically inclined, electric scooters are also available. The most popular cycling routes are within the Ten-mile Gallery scenic area, which boasts the most dazzling and idyllic countryside of Yangshuo. While biking, you don't necessarily need a set route to explore this area; losing yourself in the lush greenery is half the fun!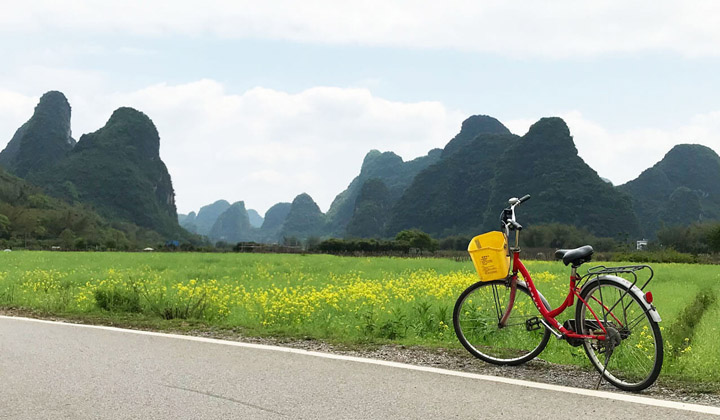 Biking in the countryside of Yangshuo
The Yulong River is a small tributary of the Li River that is located around 7km south of Yangshuo town proper. The river passes by many small villages before joining the Li River, offering interesting insight into the lifestyle of local villagers. The Yulong River valley is navigated solely by non-motorized bamboo rafts, which are steered by a gondolier. During the day, the traditional bamboo rafts that float along the Yulong Rivers are the perfect way to relax and take in the otherworldly view of the surrounding karst peaks. There are several sections of the river you can raft, but we suggest rafting from Jima Wharf or Shuiedi Wharf, down to Gongnong Bridge. The former section is around 6km and takes about 90 minutes and the latter section is around 3km and takes 50 minutes. Both sections feature stunning views of the unspoiled nature along the Yulong River. There is also a walking path that follows the Yulong River, which makes for a great hiking route and offers similarly breathtaking views of the karst mountains.
In Yangshuo park, located near the town center, there is a small hill that takes about 10 minutes to climb, which affords a good view of the town. If you want the challenge of a bigger hill, you can go to the well-known Moon Hill, Yangshuo's most recognizable landmark. The limestone peak, with a moon-shaped hole at its base, offers unparalleled views of the countryside. Further away, keen hikers can brave the Xianggong Mountain and the Laozhai Mountain in Xingping. Both mountains are challenging but boast great panoramic views of the Li River and some beautiful karst peaks.
The vertical karst peaks in Yangshuo also offer some of Asia's best climbing. There are many climbing outfits in town that can provide a range of different climbing experiences, whether you are a complete novice or an expert. This is a great way to explore the region's topography from a different perspective. Prices start from around 300 CNY for a half-day experience.
There are also several caves around Yangshuo. If you haven't gone to the Reed Flute Cave in Guilin, then we suggest you go to the Silver Cave south of Yangshuo. This is the largest karst cave in the Guilin area and features numerous intricate rows of stalactites, which are illuminated with colorful lights.
Within the town of Yangshuo, West Street (Xi Jie) is the oldest street in the city and is now a popular pedestrian street with many shops, bars, restaurants and guesthouses. Although it can be crowded, especially at night, it is a good place to stroll, try some local cuisine, buy some souvenirs, and get a taste of the culture.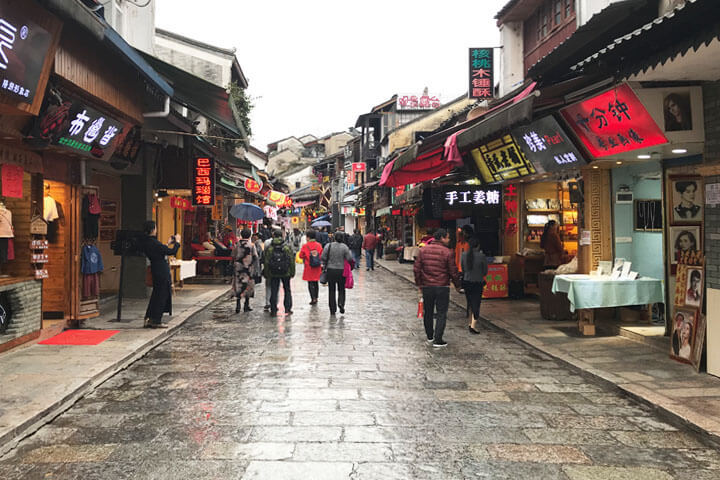 West Street, Yangshuo
Another famous attraction in Yangshuo is the nighttime "Impression Liu Sanjie" performance, created by famous Chinese film director Zhang Yimou, who also directed the opening ceremony of the 2008 Beijing Olympics. This amazing show uses the Li River as its stage, with the natural karst peaks as the backdrop, and is an impressive showcase of the life of minorities living in the Yangshuo area. The show features 600 performers perfectly choreographed alongside a fantastic light display.
Outside Yangshuo, Fuli is a small town that is famous for handmade Chinese traditional fans and deserves a visit if you are interested in Chinese painting and culture.
What to Eat in Yangshuo
Many of Yangshuo's numerous expat-owned restaurants, and some good Chinese ones, can be found around the popular tourist area of West Street. This pedestrian area is easy to navigate and features lots of good dining options. If you try the local food, you will find that Yangshuo cuisine is centered on a balanced sweetness and plenty of fresh seafood. Some mouthwatering local dishes that you should try include:
Yangshuo beer fish: The two key ingredients of this dish are in its name. With the tantalizing aroma of beer coupled with delicious fresh fish from the Li River, it's no wonder this dish has made a name for itself all over the country. Packed full of flavor from chili, spring onion, and peppers, this is a meal you simply can't miss while in Yangshuo. Being the most famous dish in Yangshuo, you can find this dish in many restaurants.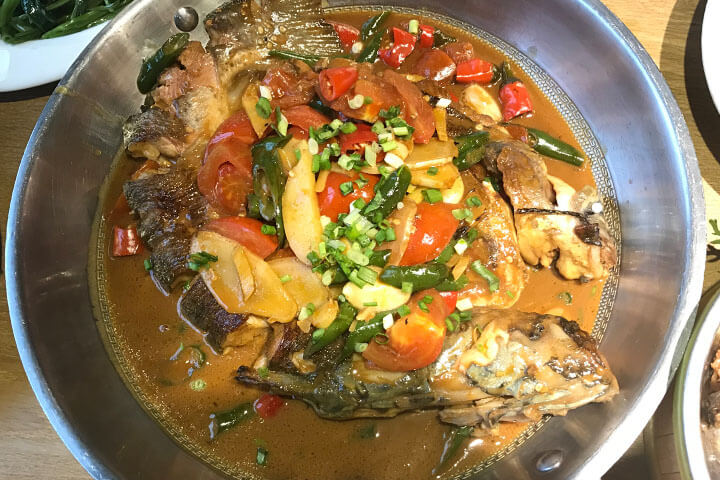 Yangshuo Bear Fish
Li River shrimp: Cooked simply with rice wine, salt, and pepper, these stir-fried, bite-sized shrimp are the perfect snack.
Lipu taro roll: This meatloaf-style dish is made from fatty pork belly and mashed taro root covered in a sweet, sticky, peppery glaze. It may not look particularly appetizing, but it has a delicious combination of flavors and textures!
Best Time to Visit
Like Guilin, springtime is when Yangshuo's karst topography is at its greenest and most picturesque. The summer rain gives a beautiful sparkle to the surrounding rice terraces; however, there is a risk of flooding, which may affect your ability to do certain activities.
Popular Yangshuo Tours: